Revues de
AGM12-31 Exide Batterie De Moto 12V (4990)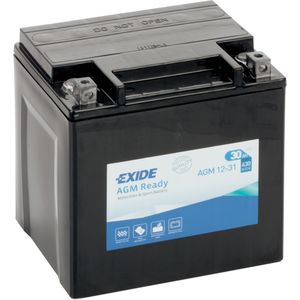 AGM12-31 Exide Batterie De Moto 12V (4990)
Notre Prix: €95.39 comp. TVA

(4.9 / 5.0) Note Moyenne:
Total des Commentaires:46
Avis des Clients
TOP !!!
5
KdD - GISTEL, Belgium -

Adapté à: harley road king 1450 2007
Une batterie AGM 20% plus puissante et quasiment au même prix d'un conventionnelle, plus une livraison rapide à domicile, IMBATTABLE ! Batterie qui convient parfaitement à ma vielle BMW R80GS de 1990, elle rentre parfaitement dans l'emplacement batterie, disposition des terminaux conforme, et la puissance supérieur permets à la vielle dame de démarrer comme si elle était neuve.
5
TC - Limonest, France -

Adapté à: BMW R80GS 800 1990
SATISFAIT
4
DG - VITROLLES, France -

Adapté à: MOTO GUZZI V7 SPECIAL 750CC 1970
As described and working well. A good swift service.
5
GIC - Somerton, United Kingdom -

Adapté à: Moto Guzzi V1000 Convert 998 1977
A bit of a squeeze but in place
5
MP - Hampshire, United Kingdom -

Adapté à: Harris Triumph Bonneville 750 1987
Excellent fit in BMW r100gs optional side mounting on terminals help reduce height. Superb cranking power. Very pleased.
5
bb - Northumberland, United Kingdom -

Adapté à: Bmw R100gs 1000 1991
Super service second to nown
5
AM - Cambridgeshire, United Kingdom -

fantastic
5
ew - Elgin, United Kingdom -

Adapté à: moto guzzi 1100i 1.1l 92
Great service as always and a quality product.
5
cs - Herefordshire, United Kingdom -

Adapté à: BMW R90s 900 1976
As always great service.
5
ms - Staffordshire, United Kingdom -

Adapté à: Quadzilla Cforce 550 18
Excellent battery. Using to start a 2.0 litre petrol Zetec in a Westfield. Superb
5
MK - Suffolk, United Kingdom -

Excellent product, good communication with Tayna, good value for money and fast delivery! All in all a great transaction.
5
BJ - DARLINGTON, United Kingdom -

A safe spill proof battery that was delivered quickly. No fuss.
4
RE - Chichester, United Kingdom -

Adapté à: Bmw R80 800 1994
Good product. Came with a fitting kit for both horizontal or vertical mounting for the cables.
5
GS - Andover, United Kingdom -

Adapté à: Secma QT500 / Extr'm 500 505cc 2003
excellent service and battery
5
MM - London, United Kingdom -

Fast delivery, fitted perfectly
5
DLS - Addlestone, United Kingdom -

Adapté à: Harley Davidson Ultra classic electra glide 1450 2004
Put this straight into my early 90's BMW R100 GS.... and finally the starter motor sounds like a jet turbine rather than the slugs dripping in golden syrup that I've lived with for the last year.... Highly recommended and now we shall see how long it lasts. Great, quick, professional service from Tayna - as usual, thank you.
5
PC - Kings Lynn, United Kingdom -

Adapté à: BMW R100 GS 1000 J
Really helpful telephone support from Marie on the sales desk, who patiently talked me through the different options and helped me choose the right battery for my bike. Arrived promptly, fitted like a glove and works perfectly despite having, on paper, a fractionally lower output than outlined in the owner's handbook. Very pleased.
5
MB - Lowestoft, United Kingdom -

Adapté à: Moro Guzzi T3 California 850cc 1977
Delivered within one working day. Measured 12.95 Volts out of the box. Started the bike (Moto Guzzi 1000) instantly. Recommended!
5
JB - BICESTER, United Kingdom -

Adapté à: Moto Guzzi Spada 948 cc
first class service arrived next day
5
tg - Salisbury, United Kingdom -

Adapté à: harley davidson electra glide 1450 1999