Revues de
MBT6N6 MOTOBATT Quadflex AGM Batterie Moto 6V 6Ah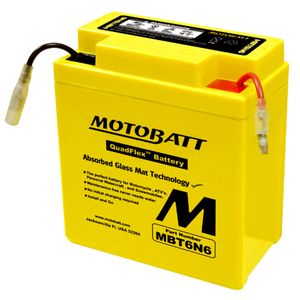 MBT6N6 MOTOBATT Quadflex AGM Batterie Moto 6V 6Ah
Notre Prix: €16.83 comp. TVA

(4.9 / 5.0) Note Moyenne:
Total des Commentaires:51
Avis des Clients
produit correspondant à la commande, et délai de livraison très rapide.Merci
5
MS - PLOUHARNEL, France -

Ready to fit, fully charged, quick delivery and well packed
5
RB - Norfolk, United Kingdom -

Adapté à: Velocette LE mk3 200 1953
Using this on my circa 1954-58 600cc Norton Dominator. It is a close size replacement for the "non-standard" battery carrier fitted in the 70's. I'm comfortable with making up appropriate bullet connectors in place of the square posts on the typical vintage battery design. A good selection of leads in the box. The battery will only be providing low current as I'm now using LEDs. I've also a Motobatt on my conserved 1970 Suzuki GP100 and it is good beyond it's extended warranty limit. I expect this one to perform as well Well packaged and delivered promptly. Easy to register for the extended warranty.
5
MS - Kent, United Kingdom -

Adapté à: Norton 99 (Dominator) 600 1970
Excellent product, great service, good price
5
GR - Southport, United Kingdom -

No problems ordering, speedy delivery, battery arrived exactly as stated all in good order. Good to do business with.
5
AB - Whitehaven, United Kingdom -

Adapté à: Velocette Venom 500 1956
good value for money
5
TH - Suffolk, United Kingdom -

Always try to use motobatt on bikes. Hold a charge longer than other battery's when not in use.
5
DR - ATTLEBOROUGH, United Kingdom -

Adapté à: honda cb 125 1972
Battery seems excellent value for the money and free option to extend the warranty
5
DS - Spennymoor, United Kingdom -

Adapté à: Panther M35 250 1966
Quality item. Arrived very quickly. Just the job to replace the aged lead/acid on 1961 BSA.
5
ga - Merseyside, United Kingdom -

Brilliant motorcycle batteries both 12v and 6v.
5
gk - West Yorkshire, United Kingdom -

Adapté à: AJS Model 14CSR 250 1963
Battery's good value will buy more but delivery was rubish
4
TC - SOMERSET, United Kingdom -

Adapté à: BSA C12 250
Very pleased always a great service!
5
SM - Rutland, United Kingdom -

Great service - the battery arrived speedily and is exactly as described. Seems to be working well. Can't comment on the longevity but fingers crossed!
5
CJ - Norwich, United Kingdom -

Bought 3 in a row as each wd not take charge after a while. Switched brand although these worked well to begin with.
3
TS - London, United Kingdom -

Adapté à: Honda SL 125 1972
Battery is still in its box
3
JG - Grantham, United Kingdom -

Excellent product it was fitted to 1959 Matchless G3L .thanks will be purchasing another one for one of my bikes.
5
Mc - Rugby, United Kingdom -

Everything as advertised. Excellent service. Very happy.
5
jm - foxford, Ireland -

Adapté à: Panther M60 250cc 1947
Perfect what more can I say
5
abs - Carmarthenshire, United Kingdom -

Adapté à: James Captain 200cc B
Good battery. Quick delivery
5
SM - West Sussex, United Kingdom -

Adapté à: Triumph T110 650 55
this battery fits my 1961 James Captain 200cc and it started with the first kick so really pleased many thanks graham adams.
5
GRA - St. Austell, United Kingdom -

Adapté à: James Captain 200cc 1961