Revues de
MBTX12UHD Black MOTOBATT Quadflex AGM Batterie Moto 12V 14Ah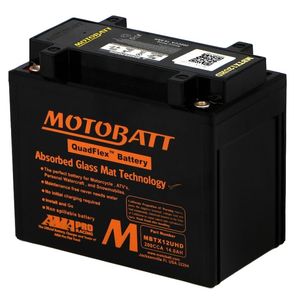 MBTX12UHD Black MOTOBATT Quadflex AGM Batterie Moto 12V 14Ah
Notre Prix: €50.50 comp. TVA

(4.7 / 5.0) Note Moyenne:
Total des Commentaires:7
Avis des Clients
Being as the battery is fairly new and Covid restrictions are in place I have not really been able to evaluate it.
4
PT - Hants, United Kingdom -

Adapté à: Velocette Venom ( with electric start motor ) 500cc 1954
The battery was much smaller than the one it was to replace but some polystyrene packing soon solved that! Other than that there were no problems, the terminals fitted perfectly and the double terminal locations are a brilliant idea, I discounted many other options because the terminal location was reversed from what I needed. Performance so far has been great, instant starting and satisfactory on-bike charging. I would certainly recommend.
5
KH - East Riding of Yorkshire, United Kingdom -

Adapté à: Moto Guzzi V50 500cc 1981
Well pleased,cranking bike faster giving instant start,will buy again first class,
5
BM - ARMAGH, United Kingdom -

Adapté à: Harley Davidson 883 iron 883 2009
Good product. So far so good. Excellent price and very quick delivery. Started my bike on the first press. Hopefully the extra ah and cca will give it the boost it needs. Will use tayna batteries again in the future.
5
SH - Alfreton, United Kingdom -

Adapté à: Suzuki Tl1000s 1000 1997
Excellent battery from a company to be trusted, Tanya are my first port of call when I require a battery.
5
CBcMEM - East Sussex, United Kingdom -

Adapté à: Triumph Trident T150V 750 1973
Did the job
5
WR - Rotherham, United Kingdom -

Adapté à: Harley Davidson XO883C 883 09
Excellent battery . But shipping was slow this time. No stock and the advertising said ready to ship
4
BS - Hasselt, Netherlands -

Adapté à: Triumph Tiger 1050 2008