Revues de
MBTX14AU MOTOBATT Quadflex AGM Batterie Moto 12V 16Ah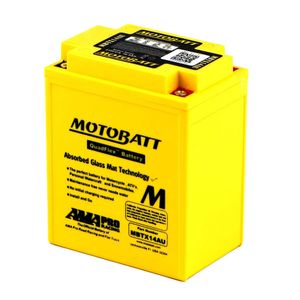 MBTX14AU MOTOBATT Quadflex AGM Batterie Moto 12V 16Ah
Notre Prix: €56.82 comp. TVA

(4.9 / 5.0) Note Moyenne:
Total des Commentaires:58
Avis des Clients
un produit qui à l'air de qualité , maintenant , voir dans le temps ! mes autres batteries dépassent pas 1an et demi . par contre je n'étais pas informé du lieu de livraison ! je pensais le recevoir chez moi et c'était dans un point relais et je ne savais pas !
4
BP - COMMENTRY, France -

tarif imbattable et livraison trés rapide avec un emballage soigné !
5
LF - ST JULIEN DE COPPEL, France -

Correspond parfaitement en remplacement de la batterie d'origine. J'en ai une sur une autre moto, dix ans, pas une recharge et toujours très performante !
5
sq - Saint Médard en Jalles, France -

Adapté à: Honda Cb750 four 750 1976
perfect ?
5
NL - NICE, France -

Adapté à: HONDA XL600LM 600 85
très bon produit facile à installer. Super !!!
5
PJ - Salbris, France -

Adapté à: Yamaha 650 XS 650 cm3 1981
Livraison ultra rapide. Excellente batterie, a donné un boost à ma moto. Ultra-quick delivery. Very good "batterie", give a boost to my seven-fifty.
5
CR - Avignonet Lauragais, France -

Adapté à: Honda Seven-Fifty 750 2003
expédition rapide, et matos de très bonne qualité. comme d'habitude. je ne prends plus que ces batteries pour mes moto. RAS, même en hivers après un arrêt prolongé. autre avantage, batterie au gel, donc, installation possible dans toutes les positions, et pas besoin de la charger avant utilisation. bref, que du bon.
5
Cj - rueil malmaison, France -

Adapté à: triumph daytona 1200cc 1995
good deal and prompt shipping
5
JM - Northumberland, United Kingdom -

great service and fast delivery the battery is a great make no problems
5
RC - NEWPORT, United Kingdom -

Adapté à: royal enfield efi 500 2019
An excellent product that is both powerful and longer lasting than the others I have tried. Prompt and efficient service means I am very pleased with my purchase and all at a very competitive price....
5
TH - Gloucester, United Kingdom -

This model was already on a bike I purchased so stuck with the same one. No maintenance so no filling up the battery or maintenance. It seems fine I did ask a motorcycle dealer I have used before and he said it was a good replacement first
5
AL - Rhyl, United Kingdom -

Adapté à: Kawasaki GT 75j 1993
Great service and a good product, fitted perfectly. Time will tell how it lasts but outwardly quality looks first class so hopes are high?
5
JT - Northumberland, United Kingdom -

Adapté à: Royal Enfield Continental GT 535 2019
Fantastic Service . Battery was well packaged arrived next day. Thanks
5
BH - Warrington, United Kingdom -

1 class service .
5
HO - Bury St. Edmunds, United Kingdom -

Have used motobatt before and it has proved reliable and long lasting. other batteries I have used do not come close to theses batteries.
5
Jb - Nottinghamshire, United Kingdom -

Adapté à: triumph sprint 885cc 1995
Fitted to a Moto Guzzi Breva 750, and so far all good bike is cranking over faster than before, very pleased with price and fast delivery.
5
RC - West Midlands, United Kingdom -

Adapté à: Moto Guzzi Breva 750 744cc 2007
Excellent product, delivered fully charged and ready to go. Plenty of cranking power.
5
SF - Sittingbourne, United Kingdom -

Adapté à: Triumph Thunderbird 900 2001
Pleny of cranking power to get the bike started. Gave one in my Rocket III and so bought one for my Kettle.
5
PD - Hythe, United Kingdom -

Adapté à: Suzuki GT750A 738 1977
Great battery with quadflex
5
gp - cheshire, United Kingdom -

Adapté à: Honda 750f2 75 1978
Like giving the old bike a heart transplant, excellent!
5
RT - Dartford, United Kingdom -

Adapté à: Triumph Trident 750 1991