Revues de
MBTX24U MOTOBATT Quadflex AGM Batterie Moto 12V 25Ah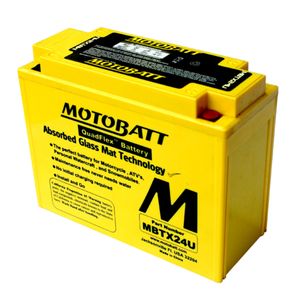 MBTX24U MOTOBATT Quadflex AGM Batterie Moto 12V 25Ah
Notre Prix: €74.43 comp. TVA

(4.8 / 5.0) Note Moyenne:
Total des Commentaires:17
Avis des Clients
Excellent battery and service amazingly quick delivery.
5
DJC - CAMBRIDGESHIRE, United Kingdom -

Adapté à: Honda GL1500 Goldwing 1,500cc K
Found out about this battery from a recommendation by a bike engineer specialising in Honda goldwings. Your company link showed up allover web searches and your price was competitive and most of all I wasn't disappointed by your personnels answering all questions over the phone prior to placing my order which was delivered promptly. It has only been less than a month and the battery works excellent. I have already passed on Tayna's name to friends and family.
5
EM - Feltham, United Kingdom -

Adapté à: Honda Goldwing 1520 1995-1996
Excellent fit for my Can Spyder f3. Having the extra terminal post are a brilliant idea fo accessories etc. Best price and very quick delivery.
5
RS - Morpeth, United Kingdom -

Adapté à: Can am Spyder f3 1330 2019
arrived in good packaging, and in reasonable period. this batterfy was to replace my previous motobatt and hope this one one will last as long. it is used on hondamy goldwing trike and always had the power to start even when cold. i must treat this one better over the winter period.
4
GP - Cambridgeshire, United Kingdom -

Adapté à: honda goldwing trike 1500 m
Arrived really quick just what I needed for the Goldwing. All the terminals where in the right place and as you can turn the battery around they can be on the opposes side so it fits any bike.
5
dl - Berkshire, United Kingdom -

Adapté à: Honda Goldwing 1500 1990
Great product and great delivery service .
5
LH - Ashford, United Kingdom -

Adapté à: Honda Goldwing 1520 cc R
Great battery, ordered mon got it tues, £40 cheaper than anywhere else, what else can I say, great all round service and will use tayna from now on.
5
JG - Kilmarnock, United Kingdom -

Adapté à: Yamaha Virago 1100 1991
As usual the service cant be beaten from TAYNA. I use the MOTORBATTS on my bikes and found them very good especially for the price. There are a few variations in sizes but generally not an issue. The brass battery lugs may mean a bit of alteration to cables and also to the supplied Allen cap screws if numerous cables are stacked on the brass lugs, choose a new bolt that goes though the lugs allowing clearance to tighten. Very good power retention after off road time, As near to perfect as you will get.
5
DM - Llannerch-y-Medd, United Kingdom -

Adapté à: Suzuki Cavalcade GV1400 1400 1986
Good product, I've used this product several times now and it is great battery.
5
CA - Lowestoft, United Kingdom -

Adapté à: Yamaha Virago 700 84
Best battery ever.
5
AS - Studley, United Kingdom -

Adapté à: Yamaha Xs1100 1100 T 1979
Last time I bought motobatt battery 6yrs ago it came with 4pole connectors surprised this one only had 2 sent email to Tanya asking about this no answer
4
WC - Tranent, United Kingdom -

Adapté à: Yamaha Virago Xv1000 1984
Thankyou for your excellent product and service
5
aK - Slough, United Kingdom -

Adapté à: Harleydavidson Road king 1340 1994
This the second one of these on my GL1500, last one lasted twice as long as any other make and always gave full power, even when not used for months. Am sure this will be the same
5
I - Gillingham, United Kingdom -

Adapté à: Honda GL1500 SEW 1500 S
This is my second AGM MBTX24U battery in a short space of time. I bought the first one to try it as I'd never heard of a AGM battery before. When it was fully charged and on the bike, the bike jumped into life immediately, even thought it hadn't been started in years. It's a large bike, a Honda CBX1000. They're really had to start when they're not used regularly. That was enough to convince me that this battery was up to the job, so much so that I bought a second battery for my other CBX. I have then both on trickle chargers and the bikes bounce into life straight away with no churning over which used to happen with other batteries. These batteries are really up to the job. Both batteries were delivered quickly and the packaging of them was first class. I would certainly recommend these batteries and your service to anyone.
5
MM - Newtownards, United Kingdom -

Adapté à: Honda CBX1000 (2 of) 1047 1978 ans 1982
Everything seems fine at the moment, but I won't know how good the battery is for another year or so !
4
JA - Grantham, United Kingdom -

Adapté à: Motto Guzzi V50 Monza 1981
Servicio muy rápido y eficiente. Todo perfecto. Se lo recomendare a mis amistades. Saludos.
5
ANV - Extremadura, Spain -

Following several recommendations from my mates I ordered a new Motobatt from Tayna, I found their price was very competitive and the website easy to navigate. The communication was excellent, there was a small hiccup with the courier service but I was kept informed all throughout. When it arrived , only 1 day later than than I was expecting, it was well packaged and I fit it and away I went. Would I recommend Tayna ? Yes I really would. Great service & good prices what more can you ask for ?
5
DNJ - Morecambe, United Kingdom -

Adapté à: Honda GL1500se 1500 1999