Revues de
MBTX30U MOTOBATT Quadflex AGM Batterie Moto 12V 32Ah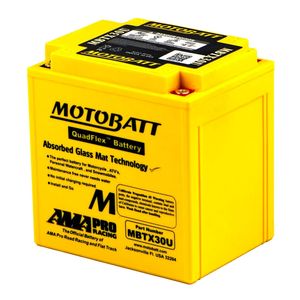 MBTX30U MOTOBATT Quadflex AGM Batterie Moto 12V 32Ah
Notre Prix: €98.62 comp. TVA

(4.8 / 5.0) Note Moyenne:
Total des Commentaires:12
Avis des Clients
Tres bon qualité, prix correct, livraison avant date.
5
PP - Cleden Poher , France -

Adapté à: Harley Davidson Road king classic 1584 2010
These batteries do last longer than some others, and their CCA performance is excellent. Having the multi pole set up is a real benefit as well. Excellent customer service with fast delivery from Tanya Batteries. Will definitely buy from them again. Many thanks. Simon.
5
SB - Jersey, Jersey -

Excellent product, good value ?
5
MT - Torrington, United Kingdom -

Adapté à: Moto Guzzi California 3 949cc 1993
Item as described and delivered on time, even during these times! Would buy from again!
5
TH - Margate , United Kingdom -

Adapté à: BMW R 800
Great service by Tayna Batteries. Great price One thing I had to trickle charge for 3 hours the motobatt battery mbtx30u to bring to 80% charge when i received it. Don't know if this is normal or says anything about the condition of the battery. Worked great when i put it in the bike. Thank-you
4
GW - Dublin, Ireland -

Adapté à: Harley
Outstanding service
5
AG - Kent, United Kingdom -

Adapté à: Harley Flhtc 1340 97
Arrived promptly, and fitted straight in. Bike started first time. Appears to be a quality product and would recommend to others. One thing that was a pain though is when you go to apply for the extended warranty you have to provide the serial number of the battery, which if you don't know at the time is on the top of the battery. So having fitted the battery to the bike along with the seat etc I then had to strip the bike down again in order to obtain a photo of the serial number as you have to upload it when applying. It would have been easier if the extended warranty card informed you of this fact before you fit the battery etc or print it on the box.
5
NG - Surrey, United Kingdom -

Adapté à: Harley Davidson FLHTCU 1690 2012
Fast delivery at a good price.
4
CvdP - Lichtenvoorde, Netherlands -

Adapté à: Moto guzzi V50 monza 500cc 1983
A great company,very fast dispatch of battery and very competitive price compared to other companies on the web advertising the exact same product.5stars*****.
5
dm - BELFAST CITY, United Kingdom -

Adapté à: Harley Davidson Streetglide 1450 2006
Excellent delivery , A++++
5
MS - Newtownabbey, United Kingdom -

Adapté à: Moto guzzy T3 850 1980
This is a quality battery. It is the same battery as the six year old one which failed having sat unused on the bike for over a year, which I regard as not unreasonable. Battery was not an original fitment to a 1979 motorcycle (obviously) but starts it with complete ease. It is physically larger than the original fitment but is not any real trouble to fit. Motorcycle is a Moto Guzzi V50 II (500cc). Battery comes with a leaflet offering a free extended warranty through Hendler - takes it up to two years - simply register it online.
5
BM - Edinburgh, United Kingdom -

Adapté à: Moto Guzzi V50 II 500cc 1979
Good product
5
gt - ijmuiden, Netherlands -

Adapté à: Moto guzzi Le mans 4 1000 1984