Revues de
MBTZ14S MOTOBATT Quadflex AGM Batterie Moto 12V 11Ah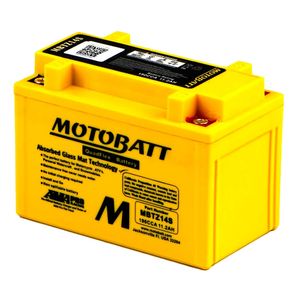 MBTZ14S MOTOBATT Quadflex AGM Batterie Moto 12V 11Ah
Notre Prix: €48.31 comp. TVA

(4.9 / 5.0) Note Moyenne:
Total des Commentaires:11
Avis des Clients
Very pleased with the AGM battery. It fits my DR650SE very well, just need a couple of washers under the battery clamp. Far better battery than the standard Suzuki fitment. My bike had not been run for over a year and started on the second press of the starter button.
5
MD - CAMBRIDGESHIRE, United Kingdom -

Adapté à: Suzuki DR650SE 650cc 1996
Its always a worry when replacing batteries, finding out that it doesn't fit the bike you have, no matter how hard you research products. This battery was as specified, suitable for my bike and its fits like a glove. The terminals match too. No mods required.
5
GG - XX, United Kingdom -

Adapté à: Honda VT750 Shadow Aero - USA import 750cc 2005
Great service click and collect very helpful highly reccommend them
5
CM - Shropshire, United Kingdom -

Adapté à: BMW GSA1200 1200 17
Replaced the OEM yuasa. Fitted exactly as the OEM. Seems to work well. Used Motobatt in other bikes all good
5
pm - WORCESTERSHIRE, United Kingdom -

Adapté à: Norton Dominator 961 2016
I've got motobatt in 8 of my bikes. Enough said. Tanya always deliver so quick and basically more or less best price out there .
5
sr - Berkshire, United Kingdom -

Adapté à: Ktm RC8 RC8 1190
Excellant service as always. I was a bit reticent in ordering the MOTOBATT after one on another bike failed without warning however when I checked how long it was fitted, i changed my mind and ordered this for my NT700 Deauville. it is a perfect fit has 4 terminals to help with orientation in the battery compartment which on the Deau is at an awkward angle with the battery on its side. Starting is effortless and there seems to be plenty of capacity for longlivity. I hope this one lasts as long or longer than the original
5
RJ - Dorset, United Kingdom -

Adapté à: Honda NT700 ABS Deauville 700 2007
Excellent product, screwing on terminals is common sense but I checked an online video just to be sure,
5
GT - Glasgow, United Kingdom -

Adapté à: honda NT700 700 2006
So far so good
5
MM - N/A, United Kingdom -

Adapté à: Ktm 990smt 990 2010
Fast delivery. Easy to fit works perfectly. Appears to turn over the engine better than the the original battery when it was new. Also additional years warranty when registered with Motobatt
5
GR - Redditch, United Kingdom -

Adapté à: Yamaha XT1200ZE super Tenere 1200 2017
Fast delivery & Battery sorted the problem out straight away, perfect thank you.
5
KH - Surrey, United Kingdom -

Adapté à: Honda FJS Silverwing 600 600cc 2012
These are top quality batteries - I have learnt my lesson buying cheap batteries and will stick to these in future. Two year warranty reassuring. One gripe - the self-fit terminals have a design Motobatt need to correct.
4
BC - East Sussex, United Kingdom -

Adapté à: Honda NC 750XD 750 2013