Revues de
51913 (NTS51913) Sealed Batterie De Moto Numax MB12V20P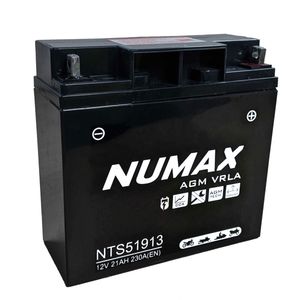 51913 (NTS51913) Sealed Batterie De Moto Numax MB12V20P
Notre Prix: €51.66 comp. TVA

(4.8 / 5.0) Note Moyenne:
Total des Commentaires:17
Avis des Clients
Pour l'instant ça fonctionne, Je suppose qu'il ne faut pas s'étonner de cela. A voir si elle passera le cap des 3 ans. Juste un petite remarque: le trou de la borne négative était obstrué, j'ai dû le repercer.
4
MD - Coudoux, France -

Adapté à: BMW R850RT 850 cc 2006
Battery fitted good, lot's of power to start my bike and very good service thank on delivery.
5
GM - Gloucestershire, United Kingdom -

Adapté à: Bmw R1150R 1150 02 reg
I have used batteries from this company for several years now, on various motorcycles ranging from my bmw r1100 to my classic norton commando. There are plenty of types/ brands to choose from should you prefer a particular brand All with prompt delivery and prices that won't break the bank blu
5
be - Croydon, United Kingdom -

Adapté à: bmw r1100rt 1100cc 89
Exactly as advertised. Excellent protective packaging with quick delivery. Battery did need a short top-up charge before installing but probably would have had enough juice to start the motorcycle and let the bike finish the charge.
5
JS - APO, USA -

Adapté à: BMW R1200RT 1200 2009
Battery spot on but let down by Yodel. Had to chase them. Battery had been shipped to their Aberdeen branch instead of Gloucester! Took over a week to arrive. Two previous orderes from Tanya have arrived next day even though ordered in the afternoon and in this case Tanya shipped almost immediate.
5
SE - glos, United Kingdom -

Adapté à: BMW R1150R 1150 02
Bmw r1100rt, abs lights not resetting, new battery fitted, abs now absolutely fine, starts a treat too
5
dh - Northolt, United Kingdom -

Adapté à: Bw R1100rt 1100 1997
Same no as old battery but slightly smaller just had to alter securing bkt but fitted OK.
4
mt - Wrexham, United Kingdom -

Adapté à: Morini Sport 350 1977
Excellent service, support and delivery
5
Mq - Warrington, United Kingdom -

Adapté à: Bmw 1100rt
very good for Bmw R850 R
5
Mak - Nottingham, United Kingdom -

Adapté à: bmw r 850 R 850 12345
This is a really good battery, especially for the price. Easily fitted and spins the engine over very well, even though the damn bike won't start (clearly more than just a dead battery going on here). Thinking for the future, if needed I would certainly buy this battery again.
5
RR - Longfield, United Kingdom -

Adapté à: BMW R1100S Sport 1085cc 2000
Exactly as described, with good service.
5
Ih - Scarborough, United Kingdom -

Adapté à: BMW RT 02
Superb battery with plenty of cranking power.
5
PK - Leeds, United Kingdom -

Adapté à: Bmw R850R MU 850 2004
Excellent!
5
JS - West Midlands, United Kingdom -

Adapté à: Bmw R1200c 1200 R
Excellent purchase a better spec than other sellers for much more money. Service was excellent especially considering the circumstances in which the purchase was made, (Covid lockdown).
5
Mm - Tamworth, United Kingdom -

Adapté à: Bmw R1150RT 1150 02
Exelent
5
MAM - Inverness, United Kingdom -

Excellent battery let down by the really thin terminals. The last Numax had much thicker terminals.
4
jf - Southampton, United Kingdom -

My BMW motorcycle refused to start on a Tuesday morning due to battery failure. I placed an order with Tayna immediately and by Thursday morning I was back on the road again. I have to add that I live in Northern Ireland. Exceptional service indeed! Thanks Tayna.
5
AC - Craigavon, United Kingdom -

Adapté à: BMW K1200lt 1200 1999