Revues de
Y60-N30L-A Batterie De Moto Numax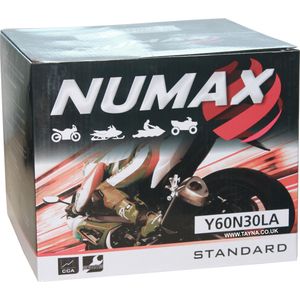 Y60-N30L-A Batterie De Moto Numax
Notre Prix: €55.92 comp. TVA

(4.7 / 5.0) Note Moyenne:
Total des Commentaires:33
Avis des Clients
Put it on an my bike started first time ?
5
RF - Dorset, United Kingdom -

Adapté à: Kawasaki Voyager 1300 1981
Does what is supposed to do, but could do with longer bolts I had to fit 5 terminals on to the bolt only just got the nut on.
4
IW - london, United Kingdom -

Adapté à: moto guzzi california ev 1100 2001
Great service with prompt delivery
5
BE - Lincolnshire, United Kingdom -

Adapté à: BMW K75 750 1992
Quick delivery. does the job.
5
G - Morpeth -

Adapté à: BMW K1 1000cc H
The battery was an easy fit as a direct replacement for an almost identical one. Filling with acid is simple but requires some care, but the directions are clear and easy to follow. The new battery has a window in the top, a feature that I hadn't come across before, subsequent enquiries about this peculiarity were answered virtually instantly and very concisely indeed, I was very impressed. I would certainly recommend this supplier on the basis of this purchase.
5
JB - Tyne and Wear -

Adapté à: BMW R80/7 800cc 1978
Great product. Same physical size as what it was replacing, considerably more Ah. Great cranking speed now. No more BullS about "Lazy Starter".
5
IS - Bridge of Weir -

Adapté à: BMW R60/7 599 1977
Excellent service and delivery prompt.
5
GK - Kenmare -

Adapté à: BMW K75 750 1986
It was easy to order. arrived quickly and was well packed. Thank you.
5
sw - Bodmin -

The battery fitted my bmw r1150rt I wanted more cca and you have to modify the battery and it fits well I would buy again deffo .
5
a - Great Yarmouth -

Adapté à: bmw r1150rt 1150cc 2004
Have used these batteries before, very good for the price.
5
jd - Altrincham -

Adapté à: moto guzzi imola 350 1982
super fast delivery
5
db - South Yorkshire -

Great battery with good delivery and price
5
sk - Dorset -

Adapté à: laverda 1200
Bike starts great. Good price and delivery.
4
pr - Carnforth -

Adapté à: Laverda Jota
Very pleased with the speed of delivery and tracking service provided en route.
5
DT - Orpington -

Adapté à: Moto Guzzi Le Mans II 950cc 1981
Doing the job nicely.Time will tell....
5
MR - Newport -

Adapté à: bmw K75RT 750
looks good started first time . only time will tell
4
ajb - Stoke-on-Trent -

Adapté à: bmw r750 1976 750ccr r reg
Fits perfect, and fast delivery.
5
NF - North Yorkshire -

Adapté à: Moto Guzzi V50 500cc 1980
Great priced battery, came super fast and was packed well. Great job!
5
pete - Dorset -

Adapté à: moto guzzi le mans 1000 1989
Reasonable price. Immediate despatch. Correct part supplied. Excellent courier service. Easy to fill with acid pack provided. Vent is in a different position to the previous battery fitted and the vent moulding on this one just touches frame but not a problem.
5
RGH - Aberdare -

Adapté à: BMW R80RT 800 A-reg
Good product, fast delivery.
5
Nick Allen - West Sussex -

Adapté à: BMW R80 RT 796cc 95