Revues de
YTX4L-BS Batterie De Moto Numax (NTX4L-BS)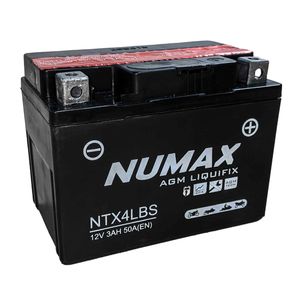 YTX4L-BS Batterie De Moto Numax (NTX4L-BS)
Notre Prix: €17.07 comp. TVA

(4.7 / 5.0) Note Moyenne:
Total des Commentaires:18
Avis des Clients
Je recherchais une batterie de 12V pour alimenter une pompe immergée d'un pulvérisateur ! Je reconnais que ce n'est pas son utilisation habituelle ! Mais cela ouvre commercialement parlant un autre marché que celui de la moto ! Mais le plus important c'est la diversité des produits , de la rapidité et surtout . . . l'assistance qu'a montrée à mes sollicitations TAYNA Batterie ! Amis bricoleurs ou motards, une seule adresse: TAYNA Batterie ! A solliciter sans modération !
5
E - SAINT UZE, France -

Great batt great service
5
aj - Grantham, United Kingdom -

Adapté à: Zhenhau Sr125 125 2012
I bought this battery to use with my Model Aircraft field equipment which runs on 12 Volt DC. Marie and Steve were extremely helpful in recommending a cheaper battery than I had selected, moreover it had a higher capacity. It has proved to be ideal for my needs and works extremely well. I and my family use Tanya because of the great service and helpful and knowledgeable advice they provide, one of the best companies I have used regardless of product. Well done Tanya.
5
TM - Birchington, United Kingdom -

Adapté à: N/A
Perfect deal, came very quickly and troublefree. a+++
5
BS - Wijgmaal, Belgium -

Just what I wanted at a great price and very quick delivery
5
AO - Great Missenden -

Fast and good
5
james muir - Motherwell -

Excellent service at a good price. Ordered at 1550 on Thursday, arrived at 0745 Friday. Can't ask for better
5
michael carrott - Tyne and Wear -

Adapté à: Kinroad XT50 49cc 2008
Very presently surprised from start to Finnish , My order was delivered the next good quality product at the right Price, I will be back.
5
SHARON CLOUTING - Ipswich -

Adapté à: Honda Cb250 250 1975
Will not use again
1
In happy - Uk -

Batteries lead acid for a reasonable price... bought 2. Disappointed that I had to pay double the price for one delivery Computer generated reply not exactly friendly
4
ICANHOPIT - Cornwall -

Adapté à: NORTON N15CS High Pipe Dessert Sled... USA reimport 780cc 1967
very quick del and well packed
5
steve brotherhood - dartford -

Adapté à: aeon cobra 100 cc quad
Easy to buy. Very quick delivery. Simple Acid loading with the sealed plastic bottles provided. My Lawnmower's back in working order just in time as the April rain arrives. Thanks.
5
Kaisa Prior - Hertfordshire -

Adapté à: Lawnmower Mountfield v.small
Excellent service and fast delivery, this battery is for my 'get to work' bike and was purchased because it was cheap. Just goes to show cheap doesn't have to be just cheerful keep up the great work.
5
Mr D McGill - Cumbria -

Adapté à: Suzuki address 125cc 2009
brilliant service, quick delivery and very well packaged
5
wayne williams - Merthyr Tydfil -

Adapté à: gilera dna 50 2001
have used your company twice now once for caravan battery and now for bike battery both times excellent communication and next day delivery definitely would reccomend you to other people ,thanks
5
simon opificuis - Middlesex -

Adapté à: gilera dna 50 2009
Excellent service, fast delivery and good communication. Would use again, thankyou
5
John Moorhouse - Shropshire -

Adapté à: Aprilia MC Gulliver 50cc 2002
First class item with first class service. A pleasure to deal with. Thank you
5
Raymondo2105 - Fife -

Ordered Sunday afternoon, delivered Tuesday morning. Could not expect better then that.
5
Rob Bowran - Skipton -

Adapté à: Chid's quads Anonymous Chinese 75cc 2009