Revues de
YTX5L-BS Batterie De Moto Numax (NTX5L-BS)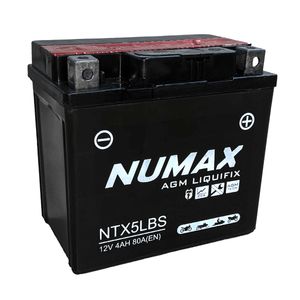 YTX5L-BS Batterie De Moto Numax (NTX5L-BS)
Notre Prix: €19.72 comp. TVA

(4.6 / 5.0) Note Moyenne:
Total des Commentaires:20
Avis des Clients
Batterie de bonne qualité et livrée complète avec son acide et vis pour les bornes. Je remercie le site pour la livraison rapide. En conclusion : Que du bonheur !
5
PD - LECT -

Fast delivery
5
ARC - Nottinghamshire -

Adapté à: Peurgo Kissbee 50 F
Arrived withing 24 hours, well package, easy to install (for me who has never installed one before the instructions were clear to follow}!!
5
MCG - London -

Adapté à: Honda CG125 125
Great service
5
dd - Ceredigion -

Adapté à: Suzuki Lt 80 80 2006
Good battery,fast service
5
ip - Tyne and Wear -

Adapté à: 110cc quad 110
Good service, good price, quick delivery.
5
PE - Teignmouth -

Adapté à: pulse scout 49cc 2011
Perfect fit, clear instructions. Price and service could not be faulted. Even the delivery was painless.
5
MH - Mold -

Adapté à: Honda CG 125 56
very quick delivery cheers
5
paul bellerby - Durham -

Adapté à: honda lead 100 06
Excellent products, extremely competitive price, have never let me down. Quick dispatch on items, always keep me up to date on my purchase and items have always been received on if not before estimated delivery. Thank you
5
deborah james - London -

would love to give a review but i havent had the battery where have you delivered to?
1
catherine egginton - Gwynedd -

Excellent battery & great value
5
Neil - West Midlands -

Adapté à: Peugeot Elyseo 100 2000
Great product and a great service at a great price.
5
Noddy - Brownhills -

Adapté à: Honda NSR 125 R1 125 2002
Very good service,as purchasing 2 batterys I would have liked a bit of discount on postage,perhaps next time
5
Kevin Russell - Wisbech -

Adapté à: Zip Gokart Honda Engine CBR 125
Excellent quick service 5star plus
5
Nigel Ambler - South Yorkshire -

Adapté à: Kymco Agility 50 09
Exactly as described and superfast delivery
5
Paul Snowsill - Surrey -

Great Service, as usual.
5
ARC AV - Cambridgeshire -

Item not as descibed in the ebay heading. It isnt the upgraded battery it is the std one. Very misleading.
1
James Radley - Nottinghamshire -

Adapté à: Honda Lead 100cc 2003
Fast delivery, Just what I needed, but it would be helpful if you mention that the battery would need charging, as I had to borrow a charger from a neighbour. Thanks again
5
SARAH HINTON - Cambridgeshire -

Adapté à: Kymco Agility 50cc 2010
Shopped around for AGES to find the best deal, and direct from Tayna was not just the cheapest, but came with next day delivery too. I would recommend a different courier though as UK Mail obviously can't read addresses!! No problems at all with the battery though, and would recommend Tayna to others.
5
Lee Cashman - Norfolk -

Adapté à: Baotian QT11 50cc 2008
the service was very good and on time
5
stephen knowles - necton, norfolk -

Adapté à: kymco agility 50 2010 model 49cc dx 60 eyr