Revues de
NTZ7S Batterie De Moto Numax YTZ7S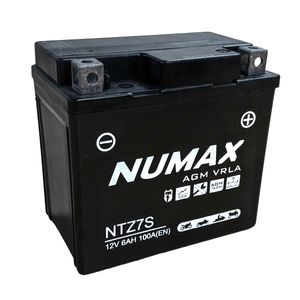 NTZ7S Batterie De Moto Numax YTZ7S
Notre Prix: €26.45 comp. TVA

(4.6 / 5.0) Note Moyenne:
Total des Commentaires:31
Avis des Clients
Still going strong after 3yrs. Excellent battery for the price.
5
NM - Aberdeenshire, United Kingdom -

Adapté à: KTM EXC 525 510 2005
Fantastic, starts first time every time no matter if cold or the bike has been sitting for a month. Next day service, superb.
5
JH - Stevenage, United Kingdom -

Adapté à: Honda CBR 125R 14
Very pleased with the item. Service was first class.
5
as - Worcestershire, United Kingdom -

Adapté à: Honda Inova 125 2004
Fast delivery, excellent product many thanks.
5
cc - Lancashire, United Kingdom -

Bought this for my XS650 good product good CCA rating
5
AS - Suffolk, United Kingdom -

Adapté à: Yamaha Xs650 750 big bore 1981
So far so good fits same as std one and starts bike, see in a year
5
KB - Cumbria, United Kingdom -

Adapté à: Yamaha Wr450f 450 2005
purchased this for my 2005 crf450x. well priced , works and fits. The battery did fail after a couple of months. Did some troubleshooting to make sure it was the battery not the bike. Replacement was sent out with no fuss at all. Things do go wrong so it is the service you get with after sales. Absolutely faultless. Fantastic service. Thank you. Will I buy again? Yes.
5
dp - Newton Abbot, United Kingdom -

Adapté à: honda crf450x 450 2005
Excellent product at a cheap price
5
sm - Aberdeenshire -

Adapté à: Honda TRX er 450 2009
Great battery fitted perfectly Just need to see how long it lasts I will try and update review in 6 months :-)
5
TW - Fareham -

Adapté à: Honda CBR125RW 125 2008
Good quality batterys these numax are and I was looking at a 6.5amp for my Yamaha xt125r as manual states for battery but got told the 6.0amp numax would work perfect for my bike as its the cranking power it gives out that matters. I hope the battery lasts as long as my dearer battery did last as I found out the battery I did use before was not good lead used in them years back so I have found this battery to be very good so far
4
MCK - Peterlee -

Adapté à: Yamaha Xt125r 124cc 2008
Quality product. Fast delivery. Great communication.
5
AN - York -

Adapté à: Honda CG125ES 125 2005.
Not Tayna's fault, but not quite the same dimensions as original battery, which caused some problems fitting. However battery performing very well so far. And friendly efficient service from Tayna.
4
JF - Devon -

Adapté à: Honda PCX 125 2011
Excellent service. Very quick delivery and was always kept informed of progress of order
5
CD - Glasgow -

Adapté à: Honda Varadero 125 Y
Absolutely fantastic battery! Good value for money and has, well is, serving well!!
5
MJH - Staffordshire -

Adapté à: Honda Cbr 125 2007
Good product. Great price. Prompt dispatch / quick delivery. Will be using Tayna from now on!
5
ab - Penicuik -

Adapté à: Honda Varadero xl125v 125 2001
Battery specification has changed from 6ah to 5ah so was not suitable.
1
JM - Wrexham -

A good reliable battery. Fitted to the bike as soon as it was delivered and didn't require any charge, plenty of cranking power !! Very happy with the battery and the service I received from Tanya Batteries, very fast delivery time, fast and efficient service all round.
5
TRL - Nottinghamshire -

Cracking. Just as good as the original.
5
B - Welwyn -

Adapté à: yamaha wr450f 450 2007
perfect replacement for genuine battery
5
mdl - Cheshire -

Adapté à: honda cb600 f2 600cc 02
Quarter of the price of the factory fitted battery and over fast and easy service. Thanks.
5
BS - Walsall -

Adapté à: Yamaha wrx 250 09