Revues de
Y50-N18L-A2 Powerline Batterie De Moto 12V 18Ah Y50N18LA2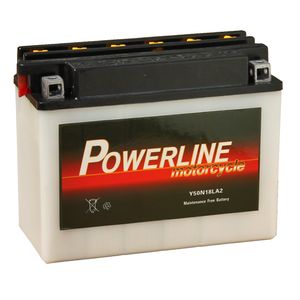 Y50-N18L-A2 Powerline Batterie De Moto 12V 18Ah Y50N18LA2
Notre Prix: €49.30 comp. TVA

(4.8 / 5.0) Note Moyenne:
Total des Commentaires:25
Avis des Clients
This battery has lasted over 3 years so far, 1 year more than any other
5
MMH - West Yorkshire, United Kingdom -

Adapté à: Yamaha Virago 750 1995
Extremely easy selection, purchase and delivery next day - very pleased!
5
PS - Worcester, United Kingdom -

Fitted exactly
5
MJY - Newton Aycliffe -

Adapté à: Lawn Mower Etesia Bahia
very pleased with the product excellent service quick to post will use again
5
rl - West Yorkshire -

Adapté à: honda goldwing 1100 1982
Excellent service and very helpful will use again and will also tell family and friends
5
agc - Bodmin -

Adapté à: Kawasaki Voyager 1200 D529jhy
Easy to set up, and works fine.
5
DS - Cambridgeshire -

excellent item from excellent seller
5
DA - Lincolnshire -

Adapté à: honda gl1200 1200 a
My battery arrived very quickly and in perfect condition. Instructions on getting the battery ready to use were clear and the procedure was simple. Early days, but the battery is performing well.
5
PC - Bedford -

Adapté à: Lawnflite ride-on mower
The service was terrific, a really quick turn around. It's a budget price battery that I couldn't beat on price elsewhere. Longevity on battery will only be proven by time but happily turning engine over at the moment.
5
RLC - Poole -

Fast delivery, item as specified.
5
MDE - Stickford -

Good so far
5
jw - dorset -

Adapté à: Yamaha Xv1100 1068 M
Very fast delivery, battery works a treat. Very pleased
5
ms - Surrey -

Adapté à: Yamaha Virago 1100 1990
Great product. Fast delivery and very competitive price. I'm a happy customer!
5
DA - Frinton on sea -

Adapté à: Briggs and Stratton Yardman Sit on Lawnmower 8.5 hp
The battery I bought from you is for my ride on grass cutter and is the correct battery. Grass cutting has not started yet so it has not been put to the test but I am sure it will be OK.
5
RC - Preston -

Very pleased. Big punch in a compact package (after two weeks in my 1100cc bike). If it carries on performing this well for a few thousand miles, I will buy this brand again.
5
J - London -

Adapté à: Yamaha Virago XV1100 1098cc 1991
Arrived on time fitted perfectly and was ready for service once filled with the convenient electrolyte installation fillers. Happily 2 lengths of battery connector screws ensure ample length to easily fit this application with convenient self securing nuts.
5
GS - Southport -

Adapté à: Honda Gl1000 k4 999cc 1979
this battery was listed on ebay for a 1997 vn1500 Kawasaki,its actually fit a Honda Goldwing,adter talking to your team on the phone abouts this I was assured that I would be paid back the postal costs to send it back,was never paid,so your compant got the battery back,and I'm £22.00 out of pockey
1
am - Kent -

Adapté à: kawasaki vulcan 1500 1997
excellent delivery time
5
RB - Stafford -

Best price and one of the quickest deliveries
5
MH - Hampshire -

Adapté à: Lawn tractor Castel 250 2005
Good value, great service and arrived within 24 hrs. Would definitely recommend.
5
MT - Aylesbury -

Adapté à: Etesia lawn,ower