Revues de
Y60-N30L-A Powerline Batterie De Moto 12V 26Ah Y60N30LA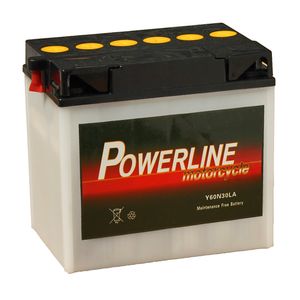 Y60-N30L-A Powerline Batterie De Moto 12V 26Ah Y60N30LA
Notre Prix: €56.28 comp. TVA

(4.7 / 5.0) Note Moyenne:
Total des Commentaires:37
Avis des Clients
Produit conforme à l'annonce, rapidité de livraison
5
r - auchel, France -

Adapté à: bmw r90s 1976
Batterie reçue en 48h! Pas mal! Il n'y a plus qu' a mettre le liquide dedans, la charger et....roule!.... Un petit point négatif: la notice en anglais c'est pas top! Une traduction française aurait été la bienvenue. Maintenant il faut voir à l'usage...a suivre!...
5
as - NOISEAU, France -

Adapté à: BMW K100RS 1000cm3 1990
I have used these on 2 bikes and they're excellent and a great price
5
MB - Fareham, United Kingdom -

Adapté à: MOTO-GUZZI G5 and T3 Cali 1000 & 850 both 1980
Very fast , can't fault
5
PT - OAKHAM, United Kingdom -

Adapté à: Ducati Darmah 900
Excellent service including the battery delivery time,well packed and will recommend Tayna to anyone needing a battery. Many Thanks.
5
RFS - Bromley, United Kingdom -

Adapté à: Moto Guzzi V50 mk II 500 1980
good strong battery works well for me
5
RB - Holsworthy, United Kingdom -

Adapté à: ride on mower 12.5 hp
Very good service -st battery came but had leaked. Phoned customer service an received an imeddiate response. Replacement revived next day.
5
TH - Crawley, United Kingdom -

Adapté à: BMW R800RT 800 cc 1990
great service wouldn't shop anywhere else
5
kw - Northallerton, United Kingdom -

Adapté à: moto guzzi monza v50 500 81
Excellent replacement for my ride-on mower battery. Exact size and capacity replacement. Came extremely well packaged and simple to prepare and install.
5
AJ - Doncaster, United Kingdom -

five stars for what it is which is a standard battery without gel or fibre so straight lead acid that will leak if I drop the bike. Having said that I could have payed more and got a better one but felt this would be fine, dont want to tempt fate so I wont say what I am hoping. Not had the battery for long so cant say too much but it starts the bike at subzero temps (old k75 750 bmw triple)and holds a charge and I am sure it will be fine for the next 10 years or so. Came very quickly but a little fiddly to fill with the supplied acid and the was a sticker with fill to marks that obscured the acid level when filling it but could see through the holes what the level was. So good service from tayna and an adequate battery for a reasonable price.
5
SB - DUMFRIESSHIRE, United Kingdom -

Adapté à: bmw k75 750 1995
Fast delivery well packed. Easy to fill and charge A very tight fit due to the vent being inline with the motorcycle frame. Bike started with new battery fitted.
3
ph - Sheffield, United Kingdom -

Adapté à: Bmw R100S 1000 1979
No problems. Value for money. Quick delivery
5
KP - Huddersfield, United Kingdom -

Adapté à: Bmw R80 800cc 1979 T
Needed a quick cheap replacement battery for my 1984 Moto Guzzi Lemans. Ordered this and paid extra for next day delivery and it arrived as promised. Very happy.
5
EC - Didcot, United Kingdom -

Adapté à: Moto Guzzi Lemans 111 850 A
Cheapest battery I could find. No fill or level marks on battery, so had to guess, no bolts to attach leads. Deffinately a cheap battery, don't expect it to last to long, but bought to sell motorcycle, so will serve its purpose.
3
BM - HAMPSHIRE -

Adapté à: bmw k75 760 c
On time as described fits the bike and does the job!! Great.
5
GS - Southport -

Adapté à: Moto guzzi California 3 950 1993
I purchased this battery as a replacement for a YuasaYB18-LA for a Moto Guzzi V50 motorbike.due to its increased capacity(26 amp/hrs) and its better CCA(250). It does not disappoint! The battery came promptly and was very well packed and contained acid and an instruction booklet. Tayna Batteries service was first class in all respects. If I require replacement batteries for my other two bikes or my car, Tayna will be my first choice
5
MJS - Galashiels -

Adapté à: Moto Guzzi V50 MK2 500 cc 1980 W reg
Cannot give it 5 stars till its over 5 yrs old ,my newmax battery only lasted 3 yrs was not good seehow the powerline gets on with my r100rt bmw
4
a - Great Yarmouth -

Adapté à: BMW R100RT 1000 1976
Very quick and reliable
5
BH - Greater Manchester -

Adapté à: Bmw K75s 750cc 1992
Great value battery, Next day delivery. Will use again. Thank you.
5
PM - Merseyside -

Adapté à: Moto Guzzi V65TT 650 1985
It arrived promptly,looks good, but I haven't fitted it yet
5
GK - Kenmare -

Adapté à: BMW K75 750 cc 1986