Revues de
YB14L-A2 AGM Powerline Batterie De Moto 12V 14Ah YB14LA2-AGM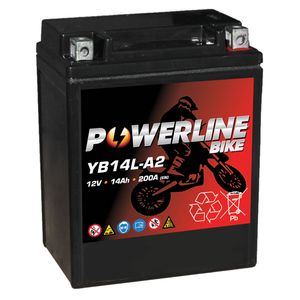 YB14L-A2 AGM Powerline Batterie De Moto 12V 14Ah YB14LA2-AGM
Notre Prix: €45.42 comp. TVA

(4.9 / 5.0) Note Moyenne:
Total des Commentaires:271
Avis des Clients
Livraison rapide Coli très bien protégé Fournisseur souple ( j'ai modifié ma commande) À voir la durée de vie de la batterie.
5
Mc - COLOMIERS , France -

Super. Livraison plus rapide que prévue. Trois jours avant date prévue. Mise en place le lendemain et démarrage au quart de tour. Content de pouvoir refaire de la moto. Merci. Je conseillerai votre site.
5
BF - Vîllabe, France -

Adapté à: Triumph Sprint 900 900cc 1997
Bonjour, Produit reçu conforme à la commande. Service livraison rapide et efficace. Monté sur la moto (Guzzi Breva), démarrage 1/4 de tour. Je ne mets pas 5* car reste à voir à l'usage...
4
PL - Bellengreville, France -

Adapté à: Moto GUZZI Breva 750 2006
Vraiment parfait ! Commande reçue en 48h et correspond parfaitement à mon besoin! Le site est vraiment très intuitif et permet très facilement de choisir le bon model au meilleur prix! Bon, ça a l'air d'être un avis écrit par Tayna, mais il n'en est rien!! Je suis un particulier qui a déjà acheté plusieurs produits sans jamais avoir été déçu par le choix, le prix et la livraison! A utiliser sans modération!! :)
5
M - Athis-Mons, France -

Adapté à: BMW C1 125cc 2002
batterie conforme aux spécifications de ma moto TRIUMPH THUNDERBIRD de 2001 Livraison super rapide ( 2 jours) après la commande
5
NN - beaumont en veron, France -

Adapté à: TRIUMPH THUNDERBIRD
good quality product no problems
5
JP - Surrey, United Kingdom -

Adapté à: Royal Enfield Bullet 500 500 2008
Great service
5
RJ - Lancashire, United Kingdom -

Adapté à: Suzuki Gsx 550 1986
Great value Great service Many thanks
5
CC - Pevensey, United Kingdom -

Adapté à: Honda Cb750 750 1976
Initial reaction - excellent. No charging required, no messing with wet acid, and my cx500 which hadn't been started for 2 years burst into life at the first touch of the starter.
5
PF - London, United Kingdom -

Adapté à: Honda CX500B 500 1981
All seems good
5
AG - Cardiff, United Kingdom -

Adapté à: Honda Cb750 k2 750 1974
Proved to be a reliable battery
5
AT - Perth, United Kingdom -

Adapté à: Triumph Trident 900
Fantastic battery extremely prompt service
5
ds - Staffordshire, United Kingdom -

This was a replacement for a brilliant Wesco battery that I purchased 10 years ago from Tayna. A motorbike battery has a harsh life as it has long periods of unuse. Tayna recommended this Powerline as a low priced AGM alternative. I've had a Powerline "Leisure" battery for over a year, so that gives me added confidence. So far I am delighted with this battery. It gives the FJ1200 engine a powerful starting whizz even when the engine is very hot. (FJ owners will understand). I will be using a smart charger if the bike is unused tor long periods. Time will tell exactly how good this battery is. Hopefully I will review it again annually. Thanks Tayna.
5
JW - Wirral, United Kingdom -

Adapté à: Yamaha FJ1200 - 3CV 1200 1989
Was as described, fitted my bike and it seems to be doing the job, bike started first press of the button.
5
PG - Grantham, United Kingdom -

Adapté à: Triumph Thunderbird 900cc 1995
Good product and good service
5
Rk - Norwich, United Kingdom -

Adapté à: Toy car Na Na Na
excellent battery and service
5
jh - Milton Keynes, United Kingdom -

Adapté à: suzuki gt 750 p
Good priced battery that does the job. Cannot comment on longevity of service.
5
MA - Greater Manchester, United Kingdom -

Adapté à: Kawasaki GPZ 500S 500 1996
Agm battery plenty of power no maintainance no worries about water level checks in difficult to see places on bike. fitted permanently a lead from Oxford products to charge with the oximiser
5
MPS - Wednesbury, United Kingdom -

Adapté à: Triumph Trophy 900 91
I was most impressed by the immediate response and next day delivery of my battery. I wish I could impress you with a description of my escapades on a dirt-bike. (I am 72) but sadly I don't have one. However, I am in possession of an aged Atco lawnmower, which now has been granted a new lease of life thanks to your great variety of batteries and brilliant service. Regards to all from Mrs B. and also Mr B. who no longer has to jump start the mower from my Ford Focus!
5
MLB - Wiltshire, United Kingdom -

Hi all Purchased this battery so far so good Plenty of turn over power pleased with purchase
5
BGG - Somerset, United Kingdom -

Adapté à: Suzuki GS 850 en 850 1979