Revues de
YT12A-BS Shido Batterie De Moto Lithium LiFePO4 LT12A-BS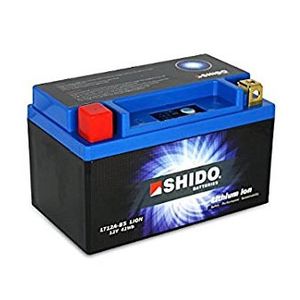 YT12A-BS Shido Batterie De Moto Lithium LiFePO4 LT12A-BS
Notre Prix: €72.11 comp. TVA

(5.0 / 5.0) Note Moyenne:
Total des Commentaires:3
Avis des Clients
C'est déjà la troisième batterie Shido que j'achète pour mettre sur une moto ! Pour l'instant jamais tomber en panne je recommande ce produit ! Légère et très simple d'installation convient parfaitement à ma Suzuki GSX-S 1000 F. La moto démarre mieux que avec celle d'origine
5
BJ - DALEM, France -

Adapté à: Suzuki GSX-S 1000 F 1000 2016
I made an enquiry about purchasing this battery after i was told by another retailer that I would have to wait 3 weeks before they would receive the it. Tanya Batteries got back to me first thing next day. I ordered the item at 3pm, had it in my hands at 9am the next morning! Fitted it to my KNinja650rE. It is considerably lighter, of comparable size (although a smidge (but not much) smaller) compared to the stock battery and whilst I haven't as yet been able to make a comparison as to how long the juice keeps flowing from this thing, it does seem like the lithium could probably hold it down longer than the lead-acid but we'll see. Cold start (4C,40F) no problems. Bike is used most days.
5
DM - West Midlands, United Kingdom -

The most noticable thing is the weight WOW super lite compared to standard saving 3kg.started the bike straight away from delivery amazing
5
SW - Farnborough, United Kingdom -

Adapté à: Suzuki Gsxr 1000 2010