Revues de
YTX20CH-BS Shido Batterie De Moto Lithium LiFePO4 LTX20CH-BS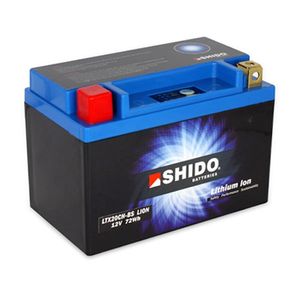 YTX20CH-BS Shido Batterie De Moto Lithium LiFePO4 LTX20CH-BS
Notre Prix: €146.78 comp. TVA

(5.0 / 5.0) Note Moyenne:
Total des Commentaires:4
Avis des Clients
I ordered this battery for my car, which is 1.3 suzuki swift gti, although it is rated as motorcycle battery, it works well in my car. Regular lead acid battery weighs 15kg, and this one is less then 1.5kg! The battery was delivered in 2 days, and I must commend Tayna as having the best price and cheapest delivery when I was buying. Special mention and kudos goes to shipping the battery expressly. It was fastest delivery ever. Job well done Tayna!
5
DP - Zagreb, Croatia -

Adapté à: Car Suzuki Swift gti 1.298cm3 1991
I've got a Moto Guzzi Stelvio 2009. I had a problem starting it with the old lead battery. It is a a big lump to kick over from cold. I originally looked for a gel battery battery. However further investigation got me to the stage to look at the possibility of a lithium ion technology. There was a lot of differing prices on this technology. I went for this battery from Tanya. The price was right. I was delivered in three days. Most important, is the fact, it works well. I am very pleased with it.
5
SS - Bristol, United Kingdom -

Adapté à: Moto Guzzi Stelvio 12002 2009
Easy order processing, and delivered exactly as stated. Arrived in excellent packaging. The whole experience from start to finish was great.
5
CC - Winsford, United Kingdom -

Adapté à: Honda XL1000v2 1000 2003
Used in race car -1410cc high comp engine. Turns it over fine. 5.6Kg weight saving. Good service from Tayna, reasonable price, very quick delivery. Happy all round!
5
JB - Faringdon, United Kingdom -

Adapté à: Austin Healey Sprite 1410 full race N/A