Revues de
6N11A-3A Varta Powersports Freshpack Batterie De Moto 012 014 008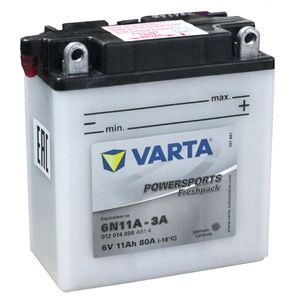 6N11A-3A Varta Powersports Freshpack Batterie De Moto 012 014 008
Notre Prix: €30.53 comp. TVA

(4.9 / 5.0) Note Moyenne:
Total des Commentaires:31
Avis des Clients
All good.
5
MH - Bedfordshire, United Kingdom -

Rang the company , Ive never bought a bike battery before ... but I received a patient , helpful service . I think the chap that took my call was new at the game , or perhaps new to my requirements , he sought advice from a colleague and I ended up with a perfect result and a fast service !
5
MS - Lanark, United Kingdom -

Adapté à: Ural combination 750 cc 1965 . 750 cc 1965
Just perfect
5
ij - Kilmarnock, United Kingdom -

Really difficult to get correct Ah rating and physical dimensions and acid. Tayna have a good selection.
5
AT - Perth, United Kingdom -

Adapté à: MV Agusta GTL 125 1971
Great service as usual from Tanya. Well priced and fast delivery
5
DV - Berks, United Kingdom -

Adapté à: BSA A10 650 1958
Received in good order. Happy with the quality of the product.
5
AS - Stockport, United Kingdom -

Excellent efficient service and price
5
CB - Notts, United Kingdom -

Adapté à: Bonneville
This was the only 6 volt battery available at the time ( cheaper ones not in stock ? Pandemic issues). Initially I was told there was one resting.and would arrive in a.couple of days. 6 days later I phoned to see where it was. Hadn't been despatched yet. However once it was processed, a speedy delivery and pleased with the item.
3
MG - Louth, United Kingdom -

Adapté à: MZ TS125 125 1987
Delivered on time and ready filled which made life a lot easier, not having to go to a dealer to be filled.
5
sg - buxton, United Kingdom -

Adapté à: Dnepr MW750 750 1960
Very pleased with the battery. I got a bit stressed when I was informed it had arrived when it hadn't.
5
JP - Chesterfield, United Kingdom -

Adapté à: Royal Enfield Crusader Sports 250 1961
Varta is a good name in batteries so it should last well. Tayna did a splendid job in getting it shipped promptly.
5
RMK - Kettering, United Kingdom -

Adapté à: MZ ES250 250 1974
Super replacement for my 57 AJS 350, great price and safely, speedily dispatched.
5
CP - Dorset, United Kingdom -

Adapté à: AJS 16 350 cc 1957
Great product does what it says on the tin and very helpful customer service.
5
KD - Musselburgh , United Kingdom -

Adapté à: Lambretta TV175 series 2 175 1960
Excellent delivery and perfect battery for my classic bike
5
MJM - Huntingdon, United Kingdom -

Adapté à: Francis Barnett Falcon 81 197 1959
Time for a new battery, and the one purchased from Tayna arrived in just under 24 hours, I could not believe it. I did not pay more for special delivery.
5
MCB - Kent, United Kingdom -

Adapté à: Morgan Prototype three wheeler originally built in 1909 6 horse power not applicable (too old)
The Battery was delivered by the carrier well within the stated delivery time. Filling this battery was rather primitive when compared with other manufacturers who provide a more fool proof acid container. This battery will only see periodic use as it is fitted to a classic motorcycle which is not in everyday use.
4
SB - Frome, United Kingdom -

Adapté à: Velocette L.E. Mk3 200cc 1965
Varta battery, excellent battery, bought a varta battery 4 years ago still going strong with no problems so decided to go for the same make of battery again for a different bike
5
ga - Cornwall, United Kingdom -

Adapté à: lambretta sx 150 150 1968
Great service from Tanya Batteries, a top product, well packed and swiftly delivered!
5
CCI - Birmingham, United Kingdom -

every thing good, quick delivery,good price, easy to order. excellent, thank you.
5
MG - Matlock -

Adapté à: heinkel tourist 175 1961
First rate product. Backed up by excellent customer service.
5
MK - Umberleigh -

Adapté à: BSA A10 650cc 1956