Revues de
YB5L-B Varta Powersports Freshpack Batterie De Moto 505 012 003 (12N5-3B)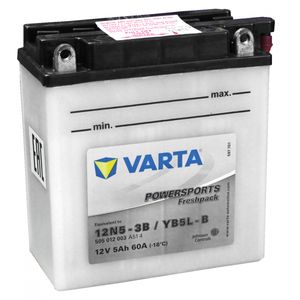 YB5L-B Varta Powersports Freshpack Batterie De Moto 505 012 003 (12N5-3B)
Notre Prix: €27.60 comp. TVA

(4.7 / 5.0) Note Moyenne:
Total des Commentaires:51
Avis des Clients
Prompt delivery and well packed.
5
GR - Powys, United Kingdom -

Adapté à: Sanglas 400E 420cc 1974
Thank you very much. The battery is 'spot on'! Just what I wanted and no leakage.
4
MJ - Emsworth, United Kingdom -

Prompt delivery Battery was fully charged Sensibly priced
5
RM - Rochester, United Kingdom -

Adapté à: Royal Enfield Trials 350cc KN03 NFH
The battery arrived in good condition,on time and fitted my motorbike.Only problem was that the battery had no charge,and took a number of hours before I was able to use lt. I was disappointed as the instructions claimed that it would be fully charged and ready to go.I suspect that this was old stock,what a shame
4
mh - Helston, United Kingdom -

Adapté à: Bmw R1200r 1200 2015
had a few batteries from them now & never fails to deliver would give them 10* if it went that high,
5
kh - Cheshire, United Kingdom -

Adapté à: Suzuki GT550 550 1972
Battery arrived the following day and was beautifully packed. Fitted and working within about 26hrs of ordering. Strange 2T oil level warning light issue solved.
5
MSA - South Yorkshire, United Kingdom -

Adapté à: Honda NH80 80 1996
Great service, thanks.
5
RF - Kent, United Kingdom -

Cracking price and good service , well packed also !
5
PW - Newcastle-under-Lyme, United Kingdom -

Adapté à: Jawa 640 350 94
Perfect!
5
DM - Holt, United Kingdom -

Adapté à: MTD Lawnflite mower yes! 11hp 1990
Given 5 stars but not yet fitted to the bike. Fitted 1 of these to another bike and was excellent.
4
AS - Moray, United Kingdom -

Adapté à: yamaha xt550 550 83
Very good product with quick delivery and clear, simple instructions. I will definitely order again!!
4
PK - Woodford Green -

Adapté à: Jianshe JS-125 6V 125 2016
Slightly slimmer than original fitment but does the job
5
PG - Hull -

Adapté à: Mz Etz301 300 1995
Very good battery. I have bought a number from Tayna in recent years. Ted Scott
4
gs - Cheshire -

Great service and ultra fast delivery.
4
MU - Northamptonshire -

Adapté à: BSA Bantam 175cc 1966
Top service,good price and fast.
5
AMH - TYNE & WEAR -

Adapté à: R/E Bullet 350cc 1999
Excellent - Delivered as promised
4
MS - Cambridgeshire -

Adapté à: Vincent Rapide 998 1949
It is always difficult to recommend batteries since so much of their effectiveness and value depends on how long they remain in reliable operation. I put a new battery in to what ever machine or vehicle but from then on it is the owner/operator to in effect look after it. And do they?!* Suffice to say as far as I am concerned,Tanya does give a clear indication of the makes and types available and then responds to my orders very readily - the equipment comes to me well packed with clear instructions - and with a "get-going" charge, it goes nicely to the task in hand. What more can I say? I will just add that in my not inconsiderable experience, ALL lead/acid batteries nowadays are not quite what they were. I wonder on the construction process nowadays - but as I advise all my customers: "keep an eye on the water and give them a charge during the dormant winter months." It is so largely up to the individual customer how well a battery - and for how long it is certainly not rocket science. A.H.Kenny (St Osyth Grass Cutting)
4
AK - Clacton-on-sea -

Adapté à: YAMAHA YAM 80 80cc 1986
Very happy with my purchase. Good battery at a good price.
5
AS - Moray -

Adapté à: yamaha RD 350 ypvs 350 D
Very quick response - nicely and very adequately packed - important with these products. The whole transaction very satisfactory. A.H.Kenny St Osyth Grasscutting.
5
AK - Clacton-on-sea -

Adapté à: - Mower Hayter 140cc God knows - elderly
Good product. Speedy delivery. Clear instructions and a perfect fit.
5
PA - Biggleswade -

Adapté à: Royal Enfield Bullet 2003 Royal Enfield Bullet 500 500cc 2003