Revues de
12N5.5-3B Varta Powersports Freshpack Batterie De Moto 506 011 004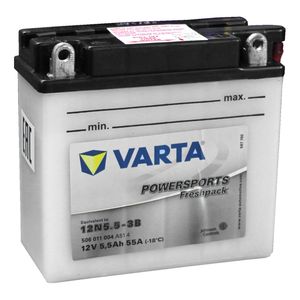 12N5.5-3B Varta Powersports Freshpack Batterie De Moto 506 011 004
Notre Prix: €28.65 comp. TVA

(4.7 / 5.0) Note Moyenne:
Total des Commentaires:44
Avis des Clients
They always say that you can tell the quality of a seller when there is a problem. I recently purchased a battery from Tayna for a Suzuki GT550. On receipt the battery gave a reading of over 12 volts but had no power. It wouldn't even light a bulb. I contacted Tayna to report the fault. They answered very promptly, arranged collection of the battery and I received a credit within 1 working day. Excellent service. I have bought many batteries from them over the last couple of years and have recommend them to many of my friends. Their product is great, their service is even better. Their delivery agent (Yodel) emails me to let me know the battery is on it's way. I receive a text in the morning telling me an anticipated delivery time and a tracking option that tells you exactly where their driver is and how long until they deliver. This means I can go out knowing I can be back in time for the delivery and not have to wait in all day. Honestly I believe Tayna to be the best battery seller in the business. I would recommend them without reservation. They have a huge choice of batteries and are reasonably priced.
5
MIL - Kent, United Kingdom -

Adapté à: Kawasaki S2 350 1972
Great service even when I was a numpty and ordered the wrong battery they sorted it out great company will use again
5
Ds - Banbury, United Kingdom -

Adapté à: Lexmoto Venom 125 2015
Battery fits perfect in my yamaha rd350lc 1981 model good price fast delivery will buy again when I need a new battery
5
NB - Swansea, United Kingdom -

Adapté à: Yamaha Rd350lc 349 1981
Right product, arrived promptly, well packaged, how ever it did arrive with a bent battery post, which i think i will be able to straighten, hence the 3 stars.
3
FG - Kilbirnie, United Kingdom -

Adapté à: Kawasaki KH400 400
ordered this battery on a Friday afternoon...for delivery the following Monday as weekend delivery was not an option it arrived on the Saturday anyway !! fantastic service !!
5
pm - blackpool, United Kingdom -

Adapté à: yamaha rd350lc 350 1981
Excellent service.
5
AG - Altrincham, United Kingdom -

Adapté à: Yamaha 125 2012
fast delivery good price and good quality really can't ask for more than that will use again if in need of another battery
5
Af - Lewes, United Kingdom -

Adapté à: sinnis vista 125 2011
Fully satisfied, good quality, fast delivery, verry good packaging.
5
BT - West Yorkshire, United Kingdom -

Adapté à: Lexmoto Venom se 125 2015
Ordered it, recieved two days later as promised, fitted it, works as it it should. "Does what it says on the tin"as they say. Quailiy sevice.
5
KA - Frinton-on-Sea, United Kingdom -

Adapté à: Yamaha RD350LC 350 1981
first class product first class service
5
kl - Kent, United Kingdom -

Adapté à: yamaha wrx125 125 2010
Excellent service. Speedy delivery. Very well packed. Great value.
5
Ak - LANCASHIRE -

Adapté à: Yamaha Yzf r 125 59
Spot on item and price
5
MH - Bury St. Edmunds -

Adapté à: Yamaha Rd350lc 350 1980 x
a good price, plus postage, helpful sales staff, well packed and delivered quickly, all good, cheers
5
mg - Inverness -

Adapté à: yamaha rd250lc 250 1982
Product arrived as ordered and perfect to specification.
5
SW - Kent -

Adapté à: Yamaha RD LC 250 1980
good value battery just take care filling with the acid
4
MD - Avon -

excellent produit et a un excellent prix
5
tl - ecouen -

Adapté à: yamaha rdlc 350 1980
Quick delivery always and great price
5
AA - West Sussex -

Good price for a branded name. Quick, efficient delivery. Good communication. Great!
5
VP - Loughborough -

Adapté à: AJS Eco 2 125 2010
Excellent communication with Stephen and his assistance with my purchase extremely helpful, highly recommended to do business with.
5
MCP - Blackburn -

Adapté à: MZ ETZ 251 250 1993
The highest AmpHour battery I could find to fit the space. Great service.
5
RN - Sevenoaks -

Adapté à: Matchless G80TCS 598 1961