Revues de
YB9L-B Varta Batterie De Moto 509 015 (12N9-3B)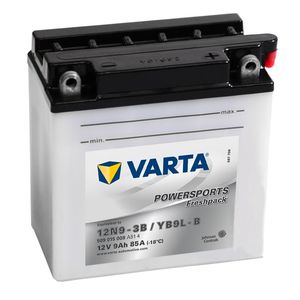 YB9L-B Varta Batterie De Moto 509 015 (12N9-3B)
Notre Prix: €31.81 comp. TVA

(4.5 / 5.0) Note Moyenne:
Total des Commentaires:21
Avis des Clients
Arrived as promised in fine fettle, however, l'm a little concerned that before charging it only read 11.9 volts, after a gentle trickle charge over 48 hrs then left 12 hrs it only showed 12.3 volts. Is this anything to be worried about ? It's for an MZ251, but it will not be fitted to the bike for a while as l'm rebuilding it.
3
RB - Kent, United Kingdom -

Adapté à: Mz 251 251 1992
Fits perfectly works straight out of box
5
KB - Lancashire, United Kingdom -

Adapté à: Honda VFR 398 1987
Superb service with unbelievably quick delivery thank you. The battery is for my Hyundai wood chipper and does the job perfectly.
5
RA - Cornwall, United Kingdom -

Excellent in a word
5
at - Cambridgeshire, United Kingdom -

Adapté à: Lexmoto Zsf 125 Not telling u
Great customer service. Informative. Let me know when the battery would be shipped and expected delivery. Well packaged and easy and safe to remove from packaging.
5
JF - Ipswich, United Kingdom -

Adapté à: Sinnis Terrain 125 2018
Came quickly and works ok
4
BW - Glasgow, United Kingdom -

Adapté à: Lexmoto Zsf 125 65
Great product at a competitive price, fast and efficient service, thank you
5
PW - Reading, United Kingdom -

Adapté à: MZ Skopion Tour 660cc 1994
Nice battery and reasonably priced! Recommended! :-)
4
JS - Essex, United Kingdom -

Adapté à: Lexmoto Zsf 125 66
Fitted this battery on my MZ ETZ 250 latest restoration project, excellent item fits very well and electrical system sorted.
5
et - Teignmouth, United Kingdom -

Adapté à: MZ ETZ 250 250 1989
The battery has not been filled or fitted in yet. It is going in a Triumph 5ta uprated to 12v. Had one fitted previously but it got neglected over winter and failed, but initially proved excellent, better lights and easy starting. Ordered one afternoon, and delivered next day. Well protected for transportation. What more can you ask for!
5
da - Bedfordshire, United Kingdom -

Adapté à: TRIUMPH 5TA 500 cc 1962 ish
I wanted a relatively cheap battery for a cheap second bike and this fitted the bill. Works great.
5
CH - Avon -

Adapté à: MZ 250 ETZ 250 1985
Super fast delivery to Belgium...thanks for the fast service....????????????
5
PO - SINT-GENESIUS-RODE -

Adapté à: Honda Rebel 250 1986
Excellent thanks, though I unfortunately managed to spill some battery acid so had to top up with battery water before charging. Hopefully no harm done!
5
de - Cheshire -

Adapté à: MZ ETZ 250 G
Under powered. Wouldnt buy again, rubbish.
1
Po - Ellon -

Adapté à: Honda Cb 750 750 1981
Good product delivered quickly and no dramas
5
stew johnstone - Warrington -

Adapté à: Honda VFR 400 NC24 400 1987
very fast service
5
JOHN HARTLEY - High Peak -

Adapté à: Triumph Bonneville T140E 750 1980
Fitted with no problems. Clear instructions and was delivered really quickly in just a couple of days.
4
USER6692 -

Battery is slightly smaller than factory fitment, but works perfectly.
4
USER6632 -

Excellent service, very fast delivery and good prices, would use again. DL
5
USER5956 -

Brilliant Battery and electro arrived extremely well packed. One problem how do you fill the battery. Could not find a small enough funnel anywhere. Eventually had an idea... TOP TIP use a fairy Liquid bottle with base cut out.
5
USER3481 -