Revues de
509 901 020 Varta Powersports AGM Batterie De Moto 12V - Remplace YTZ12S-BS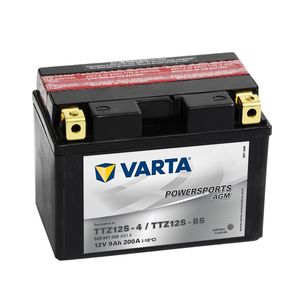 509 901 020 Varta Powersports AGM Batterie De Moto 12V - Remplace YTZ12S-BS
Notre Prix: €55.32 comp. TVA

(4.8 / 5.0) Note Moyenne:
Total des Commentaires:12
Avis des Clients
Comparison with other batteries led me to think this Varta provided the best ratio of power per £. The order was delivered very quickly indeed and arrived well-packed. It was exactly the right size for my VFR800 and held some capacity, but I recharged it completely before fitting it to the bike. It turned the motor over very briskly and started straight away. Obviously, I cannot comment on how long the battery will continue to work so well, but I've had it on the bike for two weeks without trickle charge and it started the engine after just a couple of turns. The bike's generator keeps the battery well-charged so all is well.
5
DH - North Yorkshire, United Kingdom -

Adapté à: Honda VFR800 VTEC 782cc 2009
Quick service, battery is ok but unfortunately it was not the problem with the bike (starter motor was dead).
4
CT - London, United Kingdom -

Adapté à: honda sh300
battery looks the job and when fitted works perfectly. lets hope it carries on. very pleased at the moment. yodel delivery a day late.
4
Mc - Gillingham, United Kingdom -

Adapté à: honda xl650 v6 transalp 650 2007
Perfect well packed and delivery was fast.
5
ir - stockport, United Kingdom -

Adapté à: Honda VTR Firestorm 1000 2000
Battery faulty but tested by Tanya and given no-quibble replacement. Excellent service as usual, many thanks
5
MAW - Canterbury, United Kingdom -

Adapté à: Honda VFR 800 03
Very happy with the battery. Good starting power. Good price.
5
AS - Moray, United Kingdom -

Adapté à: Honda Sp1 1000 2001
Easy to identify the right battery. The price was ok. Ordering was a doddle. It arrived in about 2 days. Fitting was easy. It worked just like it said on the instructions. What more can you ask for?
4
Jock - Chelmsford -

Adapté à: Honda Firestorm 1000cc 2002
Excellent service.
5
Kenneth Hemming - Ware -

Adapté à: Honda VFR 800 V-Tec 800 2002
Quick delivery and charge. Bike started first time after chnaging in the new battery.
5
Antony Vidal - London -

Adapté à: Kawasaki ER6-N 650 2006
Great service.
5
USER9066 -

This battery is excellent; it came with full detailed instructions on set up and installation,which was easy, and our bike started up instantly when the battery was fitted; it is still giving great performance and is fully sealed so no worries about leaks. Excellent value, well worth the money.
5
USER2934 -

What can I say.... Excellent service. I ordered the wrong battery, customer services were second to none. As soon as they received the returned battery, the replacement was sent immediately and I received it within 2 days!! I shall definitely be using you again. Thanks.
5
USER2415 -