Revues de
YB10L-A2 Varta Powersports Freshpack Batterie De Moto 511 012 009 (12N10-3A-2, 12N10-3A)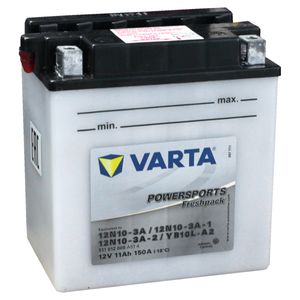 YB10L-A2 Varta Powersports Freshpack Batterie De Moto 511 012 009 (12N10-3A-2, 12N10-3A)
Notre Prix: €36.70 comp. TVA

(4.9 / 5.0) Note Moyenne:
Total des Commentaires:28
Avis des Clients
a good battery i assume, but unfortunatly the vent is on the opposite side to the vent tube as the bike was manufactured, so i had to rearrange the vent tube to the other side which is just long enough using the original fitted tube. the last one i had was a yuasa which fitted as it should and both were on the list to fit the bike.
4
sk - BRADFORD, United Kingdom -

Adapté à: suzuki gs500e 500 2002
Fast service. Perfect fit.
5
al - Ross-on-Wye, United Kingdom -

Adapté à: Kawasaki z650 650 1982
Excellent service & fast delivery.
5
JC - Derbyshire, United Kingdom -

Adapté à: Kawasaki Z650 B3 1978 1979
Exactly the product I wanted, speedy delivery, no problems ordering online. All good with the battery so far.
5
SM - Wigan, United Kingdom -

Adapté à: Suzuki GS 500 500 2005
Top Battery with extra cca.
5
BW - Spalding, United Kingdom -

Adapté à: Suzuki GT550 554 1974
Great delivery
5
MVAC - Steyning, United Kingdom -

Quality battery nd great value. Wouldn't use anyone else or battery. Second choice to yuasa
5
MH - Bury St. Edmunds -

Adapté à: Yamaha Fzr250r 250 1989 g
does exactly what it says in the instructions filled the battery put on the bike and worked purfect
5
JS - Liverpool -

Adapté à: suzuki GN250 250 p
Spot on, excellent service and delivery
4
G - Ellesmere Port -

Adapté à: Suzuki GN250 250 1992
Excellent service, prompt communications and very quick despatch
5
Is - Emsworth -

Spot on cheers
4
GS - Sittingbourne -

The website is well arranged. Prices are very competitive and delivery quick.
5
MHM - Southampton -

Product arrived within 2 days, Just added the acid and fitted to bike. breather outlet was on the opposite side but not a problem as breather tube was long enough. very efficient service, this is the second battery I have purchased from Tanya and so far very good Service with no Issues at all.
5
RC - Derbyshire -

Adapté à: Suzuki GS500 500 2003
I wanted a new battery ! So I phoned up and bought one ! Easy as that.
5
KP - Doncaster -

Adapté à: kawasaki Z 650 1980
Arrived as promised, easy to fill and worked first time.
5
HL - Broadford -

Adapté à: Yamaha Virago 125 1998
Excellant service, thanks
5
GA - York -

Adapté à: Suzuki GT 550 1976
Great
5
JM - Shropshire -

Adapté à: Yamaha Virago 250cc 1999
Good price and very efficient service. This is the second purchase I have made via this website and find it easy to use and prompt delivery
5
AnnieT - Manchester -

Adapté à: Yamaha xv535
the battery was perfect thanks to the agent whom i spoke to he was very helpful and i thank him very much
5
john brodie - Cambridge -

Adapté à: yamaha virago xvs 125 w
the battery sent had different terminals and i was told that they did not make the battery with the square terminal block on any more so had to adapt new one. cant see why they would change a battery if the bikes are set up for original "daft"
4
Trevor Carey - Windsor -

Adapté à: varta suzuki 250 1998