Revues de
YB12A-A Varta Powersports Freshpack Batterie De Moto 512 011 012 (12N12A-4A-1)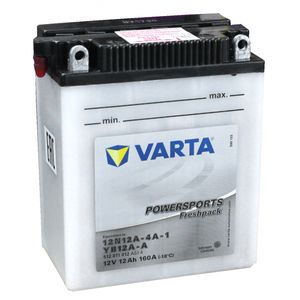 YB12A-A Varta Powersports Freshpack Batterie De Moto 512 011 012 (12N12A-4A-1)
Notre Prix: €39.63 comp. TVA

(4.8 / 5.0) Note Moyenne:
Total des Commentaires:65
Avis des Clients
Good next day service really pleased ?
5
KT - Solihull, United Kingdom -

Cheaper than the one it replaced. But no less effective so far. Happy with the purchase.
5
TG - London, United Kingdom -

Adapté à: honda transalp 593cc 2000
Great battery at a good price
5
EM - Staffordshire, United Kingdom -

Adapté à: Honda 1975 cl360 360
So far so good.
4
JW - Wokingham, United Kingdom -

Adapté à: Kawasaki 220
Great service very well packaged.
5
NW - Market Rasen, United Kingdom -

Adapté à: Honda CB400f 408cc 1977
great product, price and service.
5
pp - Crawley, United Kingdom -

Adapté à: yamaha xs250 250 1978
Very satisfied all round. Speed of delivery was excellent. Top marks.
5
SB - Kent, United Kingdom -

Adapté à: Honda Dx 450 1992
good product Recommended
5
ml - Norfolk -

Adapté à: yamaha xj 550 1982
Great service once again from Tayna. A good quality Varta battery at the right price, well packaged and with next-day delivery. Clear, easy to understand instructions are a bonus these days! Many thanks.
5
PW - South Yorkshire -

Adapté à: Honda VF500C 500cc 1984!
Exactly the right battery for the bike,Great service to.
5
Mg - Littlehampton -

Adapté à: Triumph Tiger 750cc 1978
I bought this battery as a direct replacement for the varta battery which had given 8 years trouble free service on my 250 cc scooter. I am very impressed by this brand and also the excellent service from Tayna. I would recommend both 100 percent.
5
DH - Saltburn -

Adapté à: Peugot Satelis 250cc 2007
Easy to fill and fit. Charged it using my smart CTec battery charger. Bike is now back to life and starts first button again. The Tayna web site enables easy selection of the most appropriate battery. With good prices and extremely quick delivery, Tayna is an excellent choice.
5
JC - Clevedon -

Adapté à: Kawasaki GT550 550cc 1986
Fast service and Good price!!
5
RW - Sittingbourne -

Adapté à: Ducati 748R 748 2002
I have used this brand of battery for many years and have never had any problems
5
J - Shrewsbury -

Adapté à: Yamaha xj650j 654cc 1981
Very good service, appears to be a good product, time will tell...
4
PF - Southampton -

Adapté à: Cossack Deniper 650 1995
I was very happy with the speedy service. However the image of the battery was out of date due to product updates. I got around it by modifying the terminal.
3
b - Gainsborough -

Adapté à: Honda CB650C 650 1984
an easily sourced battery ,competively priced and deliverd on time.thanks
5
dg - Attleborough -

Adapté à: honda superdream 250 w
An excellent battery that works well and was sent promptly and efficiently. I would not hesitate to recommend Tayna Batteries and their products to anyone.
5
RL - Pwllheli -

Adapté à: Honda CB 500 Four K1 500 cc 1972
was exactly as ordered fast delivery
5
AF - North Yorkshire -

Adapté à: honda 650 w reg
a good quality battery is essential for reliability! after restoring/ renewing the 37 year old electrics and loom on my bike, the kickstarter finally gave up for good (the arm fell apart) - so I do rely entirely on my battery now! - until hell freezes over and a kickstarter for my type of bike gets re-manufactured by someone... Thank you for being the only supplier of Varta batteries for Northern Ireland as well!
5
KT - Berlin -

Adapté à: Honda CB 400/4 408cc 1977