Revues de
512 014 010 Varta Powersports AGM Batterie De Moto - Remplace YTX14-BS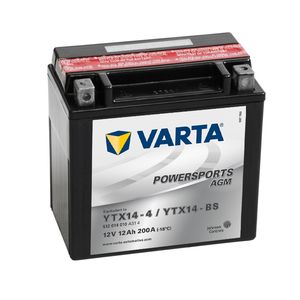 512 014 010 Varta Powersports AGM Batterie De Moto - Remplace YTX14-BS
Notre Prix: €41.97 comp. TVA

(4.9 / 5.0) Note Moyenne:
Total des Commentaires:147
Avis des Clients
Bon produit. Seul critique : ce serait plus pratique d'avoir du filetage dans les cosses, plutôt que de mettre des boulons dedans et puis "titiller" le vis pour que ça morde.
4
DV - EGUILLES, France -

Super, Conforme à la demande et délai de livraison comme prévu Je recommande Christophe
5
CL - Saint André de Cubzac, France -

parfait, bien embalé rapide, et conforme à la description . Bravo
5
ha - le compas, France -

produit conforme a mon achat livraison rapide parfait
5
NO - SOMMECAISE, France -

bonjour je suis bien satisfer cordialement
5
lm - drancy, France -

Produit correspondant a ma commande Excellent
4
IS - Rillieux la Pape, France -

Adapté à: Mercedes W211 Moteur auxiliaire 2004
Produit conforme à la commande, rapidité pour la livraison, totalement satisfait!
5
o - dison, Belgium -

Adapté à: Yamaha diversion 900cc 2001
Batterie conforme à la commande sauf si il manquait l acide avec alors qu il est expliqué qu il y a l acide fournie avec .J ai dû acheté de l acide
3
b - SOISSONS, France -

Aucun problème
4
CJ - Mérignac, France -

Adapté à: MERCEDES E 320 CDI énorme ! 2005
Envoi rapide, Satifaction au rendez-vous.
5
GD - MONTPON MENESTEROL, France -

Adapté à: Mercedes 220 CDI classe E Batterie Secondaire 2003
Purchased as replacement auxiliary battery for Mercedes. Excellent product and excellent service from Tayna - arriving within 24 hours of ordering. The battery was great value and saved me a weeks pension - possibly two, if I had purchased from Mercedes! So, highly recommend Tanya! Many thanks! X
5
AE - EXETER, United Kingdom -

Adapté à: Mercedes (Car!) E320 cdi 3.2 2003
Right product, right price and great service!
5
Atb - Prescot, United Kingdom -

excellent service
5
RL - Epsom, United Kingdom -

Adapté à: bmw 800 r 2009
Sorted my red brake light warning on my w211 dash
5
JG - York, United Kingdom -

Works perfect aux battery for mercedes e200 w211
5
JP - Carlow, Ireland -

Adapté à: mercedes e200 1.8 2004
Reasonably Priced, very good product. It was fitted to ky Mercedes E250 not a bike as and auxiliary battery.
5
mp - Woking, United Kingdom -

Great replacement battery for my 955i Daytona
5
DETKL - United Kingdom, United Kingdom -

Adapté à: Triumph Daytona 955 2000
Battery functions 100% and delivery was very quick and well-communicated. Obviously with this kind of product, the only worthwhile rating is after 5 years to see how well it lasts!
5
HD - Nottinghamshire, United Kingdom -

I needed a replacement auxiliary battery for my Mercedes E220d 2015. I first ordered the ek151, which had different posts to the original. I rang customer services who where extremely helpful. Correct battery identified, dispatched, other collected quickly. Easy fit, problem solved. Very satisfied customer. Thank you Tanya Batteries
5
CB - Wigan, United Kingdom -

Adapté à: Mercedes Benz E220d E220d 2l 2015
Had one of these 3 years ago, solid and reliable.
5
mac - nottinghamshire, United Kingdom -

Adapté à: Paggio Mp3 500 2013