Revues de
512 014 010 Varta Powersports AGM Batterie De Moto - Remplace YTX14-BS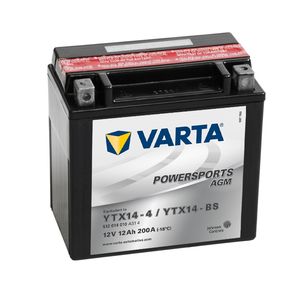 512 014 010 Varta Powersports AGM Batterie De Moto - Remplace YTX14-BS
Notre Prix: €44.16 comp. TVA

(4.8 / 5.0) Note Moyenne:
Total des Commentaires:89
Avis des Clients
Produit conforme à la commande, rapidité pour la livraison, totalement satisfait!
5
o - dison, Belgium -

Adapté à: Yamaha diversion 900cc 2001
Batterie conforme à la commande sauf si il manquait l acide avec alors qu il est expliqué qu il y a l acide fournie avec .J ai dû acheté de l acide
3
b - SOISSONS, France -

Aucun problème
4
CJ - Mérignac, France -

Adapté à: MERCEDES E 320 CDI énorme ! 2005
Envoi rapide, Satifaction au rendez-vous.
5
GD - MONTPON MENESTEROL, France -

Adapté à: Mercedes 220 CDI classe E Batterie Secondaire 2003
Good technical knowledge provided at time of purchase. Delivered next day as promised. Battery in good condition and well packed. Hope it lasts as long as my previous Varta, fitted in 2001, that's why I wanted to fit same make. Gave it 5 stars based on last one lasting 17 years on a trickle charger.
5
SM - Penrith, United Kingdom -

Adapté à: Yamaha Diversion XJ XJ900S 1996
Battery arrived quickly with plenty of communication so I could be in to take delivery. The battery fitted onto my GS a treat, that and a good price what isn't there to like
5
MB - King's Lynn, United Kingdom -

Adapté à: BMW GS 1200 1200 2010
Excellent service at the right price
5
PW - Emsworth, United Kingdom -

Adapté à: Honda quad ? 250cc ?
An easy replacement gel alternative to the OEM Yuasa battery for my bike. A well known name at a very reasonable price. Very speedy next day delivery was much appreciated.
5
DD - Southampton, United Kingdom -

Adapté à: Honda ST1100 Pan European 1100 2000 W reg.
Fantastic service and product
5
PE - Lancashire, United Kingdom -

battery was delivered very quickly , I was not aware when I ordered it that I would have to be in to sign for it , but luckily my partner was in battery was perfect for the job, arrived in less than 24 hours , delivered in protective packaging and fitted the machine perfectly Don't know about longevity or performance yet , but I am sure it will be fine , excellent service overall thankyou
4
Be - Pulborough, United Kingdom -

Adapté à: Honda Foreman 500 475cc 59
Excellent price and service for a top line product. I ve used Varta batteries on a number of vehicles over the years.
5
PR - Hartlepool, United Kingdom -

Adapté à: Yamaha Xj900s Diversion 900cc 2002
I got this battery because of the name and as I don't use the bike as much as I should it might last longer. The price was good and the person on the phone was very helpful I might add it come the next day thank you.
5
JP - Gosport, United Kingdom -

Adapté à: Kawasaki ZZR1100 1100 1993
Great product, in stock at a good price and delivered quickly. Fitted as the auxiliary battery in a Mercedes C350.
5
CG - Pewsey, United Kingdom -

Adapté à: Mercedes C350 3000 2012
very pleased with the service provided.person on phone very helpful and knowledgeable on products.helped me select the right battery
5
ab - silver end, United Kingdom -

Adapté à: bmw k1300s 1300 2009
Great service fast and reliable
5
MP - Maidenhead, United Kingdom -

Adapté à: Triumph Tiger 955i 2002
Well packaged and easy to fill A quality product.
5
Ih - London, United Kingdom -

Excellent Quality & received quickly!
5
MAMC - Kent -

Adapté à: Suzuki Eiger LT-F400F 2003
I am pleased with this product. I recommend!
5
J - Navan -

Fair price, fast delivery, easy setup.
5
TK - East Riding of Yorkshire -

Adapté à: Honda ST1100 1100 1998
A very good battery at a reasonable price. with excellent service from Tanya batteries.
5
GR - Norwich -