Revues de
512 014 010 Varta Powersports AGM Batterie De Moto - Remplace YTX14-BS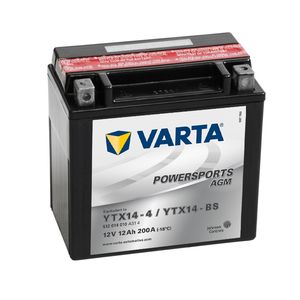 512 014 010 Varta Powersports AGM Batterie De Moto - Remplace YTX14-BS
Notre Prix: €43.01 comp. TVA

(4.9 / 5.0) Note Moyenne:
Total des Commentaires:162
Avis des Clients
Livrer un jour avant ce qui était indiqué sur le site
5
Gc - Aigne , France -

Bonne batterie de remplacement pour auxiliaire Mercedes e270cdi de 2003
5
bg - vendee, France -

Adapté à: Mercedes Classe e 177 ch 2003
Bon produit. Seul critique : ce serait plus pratique d'avoir du filetage dans les cosses, plutôt que de mettre des boulons dedans et puis "titiller" le vis pour que ça morde.
4
DV - EGUILLES, France -

Super, Conforme à la demande et délai de livraison comme prévu Je recommande Christophe
5
CL - Saint André de Cubzac, France -

parfait, bien embalé rapide, et conforme à la description . Bravo
5
ha - le compas, France -

produit conforme a mon achat livraison rapide parfait
5
NO - SOMMECAISE, France -

bonjour je suis bien satisfer cordialement
5
lm - drancy, France -

Produit correspondant a ma commande Excellent
4
IS - Rillieux la Pape, France -

Adapté à: Mercedes W211 Moteur auxiliaire 2004
Produit conforme à la commande, rapidité pour la livraison, totalement satisfait!
5
o - dison, Belgium -

Adapté à: Yamaha diversion 900cc 2001
Batterie conforme à la commande sauf si il manquait l acide avec alors qu il est expliqué qu il y a l acide fournie avec .J ai dû acheté de l acide
3
b - SOISSONS, France -

Aucun problème
4
CJ - Mérignac, France -

Adapté à: MERCEDES E 320 CDI énorme ! 2005
Envoi rapide, Satifaction au rendez-vous.
5
GD - MONTPON MENESTEROL, France -

Adapté à: Mercedes 220 CDI classe E Batterie Secondaire 2003
Perfect product !!!
5
AA - Manchester, United Kingdom -

Adapté à: Mercedes Cls 3.2 d 2005
Great battery and a direct replacement for the Mercedes battery at a great price
5
DGK - Harrow, United Kingdom -

Excellent
5
IP - Worcester, United Kingdom -

Arrived on time, battery fitted perfectly great value for the money, customer service was excellent
5
TC - Haverhill, United Kingdom -

Very good service came next day
5
RE - Swindon, United Kingdom -

Adapté à: Merc A160 2010
Delivered promptly, fitted easily and perfectly replacing the original battery.
5
JG - Fareham, United Kingdom -

Adapté à: Mercedes Benz E350 Saloon 3000 LJ63HHT
Good quality battery - this is my 2nd one. Prompt delivery
5
LY - Stirling, United Kingdom -

Adapté à: Triumph Sprint ST 955
Great service quick delivery highly recommend
5
RW - Gwynedd, United Kingdom -

Adapté à: Honda trx rancher 420 2010