Revues de
YB14L-A2 Varta Powersports Freshpack Batterie De Moto 514 011 014 (12N14-3A)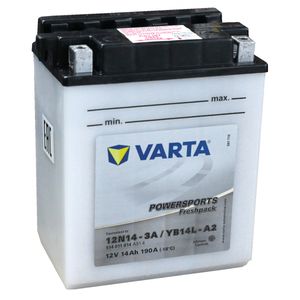 YB14L-A2 Varta Powersports Freshpack Batterie De Moto 514 011 014 (12N14-3A)
Notre Prix: €39.38 comp. TVA

(4.8 / 5.0) Note Moyenne:
Total des Commentaires:149
Avis des Clients
Quality product, would purchase again from this company!
5
A - WORCESTER, United Kingdom -

Adapté à: Suzuki GS850G 850 1985
Great battery, excellent service, prompt delivery. My only criticism is you could have supplied a new breather pipe. Not serious as I reused the old one.
5
AB - Coventry, United Kingdom -

Adapté à: Lawnstar Ride on mower 433cc 1991
great product at a good price. Battery arrived already filled due to the new regulations regarding acid and was very safely sealed and wrapped.
5
cB - Berkshire, United Kingdom -

Adapté à: motoguzzi breva 750 750 2008
works well. comes fully charges when acid is added.
5
RW - Saffron Walden, United Kingdom -

Adapté à: Lawn Mower 10 hp
Excellent battery works a treat and arrived so quick, many thanks.
5
GS - Windermere, United Kingdom -

still working well
5
MM - Crediton, United Kingdom -

super
5
LH - FAKENHAM, United Kingdom -

Adapté à: aprilia atlantic 500 2002
A good value for money motorcycle battery, I would buy again.
4
PF - Southampton -

Adapté à: Honda CX500 500cc 1983
I have ordered this product before for my lawn mower. The service was the same as last time - really fast and drama free just as it should be. This battery comes empty, with a separate and well sealed acid pack. The instructions are good and it is a simple and quick matter to add the acid. To my surprise, the battery started the mower straight away without any charging. Excellent service and will be ordering a new car battery from you guys very shortly. Cheers, Mark
5
MC - Herts -

Adapté à: Allen Turf Trooper Mower
Battery arrives with separate acid container - and confusing instructions as to what to do. A nusiance (and a hazardous one) to have to handle sulphuric acid.. The screws for the battery terminals are infuriating short, which makes 'catching teh thread' to tighten them difficult.
3
PH - Aberdeenshire -

Adapté à: Moto Guzzi Breva 750 07
Delivery excellent and packaged well. Followed instructions and after an hour was good to go. Very satisfied with this battery.
5
MHR - Durham -

Adapté à: Suzuki GS 1000 1980
Arrived next day. Filling Okay. All seems good.
5
MSW - Buxton -

Mower battery - fast simple delivery. Adding acid was Ok. Works perfectly
5
pl - Peterborough -

Good
5
KS - Buntingford -

Adapté à: Lawn mower
Great, prompt delivery, just what I required
5
GP - Crewkerne -

Quick delivery
5
D - Thornton-Cleveleys -

Adapté à: Suzuki Gsx 750 L
Excellent value and good product and description. Packaging and delivery first class once again. Extremely pleased
5
eg - Aboyne -

Adapté à: Triumph Thunderbird 885 R
Does the job!! I hate filling dry batteries but its a necessary evil. Quick delivery and good price
5
GL - Witham -

Fast service and Good price!!
5
RW - Sittingbourne -

Fast service and Good price!!
5
RW - Sittingbourne -