Revues de
518 901 026 Varta Powersports AGM Batterie De Moto - Remplace YTX20L-BS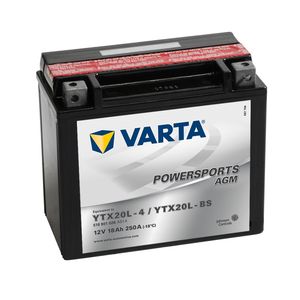 518 901 026 Varta Powersports AGM Batterie De Moto - Remplace YTX20L-BS
Notre Prix: €58.93 comp. TVA

(4.7 / 5.0) Note Moyenne:
Total des Commentaires:22
Avis des Clients
ex/service very well packed
5
km - Highland, United Kingdom -

It was good quick and did what it said on the ad. great.
5
AW - Norwich, United Kingdom -

Adapté à: Yamaha Midnight star 1300 12 plate
Arrived very promptly already to go. Fiddliness of fitting was HD's fault not Tayna's. Needed to fit the spacers to bring the terminals flush to the the battery edge. Working superbly so far for 1/3 of the cost of an HD battery- winner!
5
DB - Winsford, United Kingdom -

Adapté à: Harley-Davidson Fat Bob 1584 2012
Arrived very quickly, was very well packed, fitted on the bike and it fired it up! Great service.
5
Cm - Bridport, United Kingdom -

The battery works very well, although I would expect that as its new! Although a Rocket 3 is a big lump to get going. I was surprised however, to find the battery on its side in the box after both the delivery driver and I had carefully kept it upright as instructed by the 'this way up' stickers all over it.
4
MF - N/A, United Kingdom -

Adapté à: Truimph Rocket 3 2300 2013
The delivery of my order was delayed by pretty poor performance from the carrier (several days late). The battery itself was well packed, competitively priced and came with the fixing bolts and nuts for the terminals. Tayna staff were responsive to my enquiries about delivery and did a good job from their end.
3
MP - Shropshire, United Kingdom -

I have put this on my R3 and so far it works perfectly ok, Very pleased
5
BP - Reading, United Kingdom -

Adapté à: Triumph Rocket 3 2.3 2006
All you could want from a battery, good value and works a dream.
5
SG - Durham -

Adapté à: Triumph Trophy SE 1200 2013
very good
5
MIP - Blackburn -

Adapté à: harley davidson street bob 1690 2014
Great service as in the past
5
JH - Newport -

Adapté à: Harley Davidson Sportster 883 883 1998
Mega happy with the battery and the tayna. Unfortuantly had nothing but hassle with yodel delivery.
5
MS - Norfolk -

Adapté à: Harley Dyna 1600 2007
fan-bloody-tastic !!!
5
Chris Doody - Woking Surrey -

Adapté à: Triumph Rocket 3 2298cc 2004
Ordering this item was a pleasure, website easy to navigate, item arrived on time and was exactly what i wanted. Very impressed and would use again for sure.
5
Alan - Welwyn -

Battery being replaced was of American origina, and labelling unclear, but the numbers and dimensions given to TAYNA enabled the correct battery to be selected and duly sent. I spent few minutes reading the multi-language directions (in English) and installed the bettery. On first press of the starter button, a healthy engine roared into life, and all accessories functioned as intended.
5
peter russell - Ely -

Adapté à: Honda Goldwing /LehmanTrike 1800 2003
Hi I need a price for 5x replacement batteries HYZ 12-200 Postage to south of France
4
James Clephane - genova -

Adapté à: Yamaha Fx1000ae 2006
Good prompt service. Product was as described and battery finder easy to use
5
USER5619 -

good fast service
5
USER1586 -

Quick delivery, good price. Battery works well.
5
USER1543 -

good
5
USER1439 -

not the highest amp hour the size but quite adequate for summer starting. Delivery excellent, easy to fill and volts in spec after 30 minutes standing. Charged over night to be sure. The OEM lasted 5 years cost twice as much so looking for 3 years plus to break even.
4
USER1355 -