Revues de
519 013 017 Varta Powersports Freshpack BMW Batterie De Moto 12V 19Ah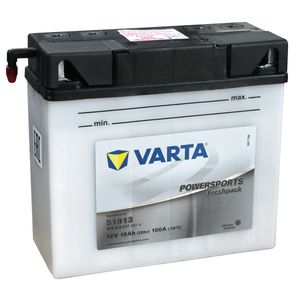 519 013 017 Varta Powersports Freshpack BMW Batterie De Moto 12V 19Ah
Notre Prix: €64.94 comp. TVA

(4.8 / 5.0) Note Moyenne:
Total des Commentaires:45
Avis des Clients
The website gave clear and accurate descriptions of the battery along with measurements which made purchasing so easy, and the prices are great too.
5
JN - Norfolk, United Kingdom -

Adapté à: BMW R1100rs 1100 1994
I have given the star rating based on my experience with this brand of battery over previous years. Although the new battery developed a fault after 3 months tayna replaced it overnight with no problems, most impressive service.
5
TS - Buckinghamshire, United Kingdom -

Adapté à: bmw R80ST800 1983
Product was as ordered and was securely packed and arrived promptly. Unfortunately the package had not been kept upright as clearly indicated on the package and some of the acid had leaked out.
4
NS - Bristol, United Kingdom -

Adapté à: BMW LT1100 1100 P
Excellent
5
CL - Kilb, Austria -

Adapté à: BMW K1200RS 1200cm3 2001
Good quick delivery. Does the job. Thank you guys
5
cl - London, United Kingdom -

Easy to top up and a short charge and was ready to go.
5
BW - Ringwood -

Adapté à: BMW K1100LT 1100cc 1998
I read the instructions which were ok. Filled the battery up and left it to charge for 2 hours as instructed. I used an oximiser trickle charger. As this is a lead acid battery I knocked off the drain when putting it in the bike (tight fit) but was able to make repairs (I have previously used gel type batteries). The tube wasn't really long enough for my liking. I like the tube to run clear out of the bottom of the bike in case of any acid spillage so that it doesn't ruin any chrome etc. Bike started ok, time will tell.
5
HM - Louth -

Adapté à: Bmw R1200rt 1200 2006
battery arrived on time with acid well packed when topped up and fitted to my bmw bike fired up first kick .great
5
dm - edinburgh -

Adapté à: bmw 850 r classic 850 2001
Great service fast efficient delivery very pleased
5
W - Waterlooville -

Adapté à: BMW K1200RS 1171 1999 T reg
Fast service and a great value. The battery was very well packed. Well worth 5 stars.
5
RJ - Fraserburgh -

Adapté à: BMW RT 1200 SE 1200 2010
not enough power to feed the engine starter and ABS check -> ABS check fails and inactive
3
AA - Coventry -

Adapté à: BMW R1100GS 1100 1996
excellent product
5
DM - Morpeth -

Adapté à: BMW K1100ltd 1100 1996
Battery very good charged quickly but no acid delivered first time round but quickly rectified sent out next day
4
NB - Derby -

Adapté à: bmw k1200 lt 1200 Y
acid fuss and have to check levels Tanya... excellent phone experience great delivery TBH would try a cheaper supplier so price must be best around. Thanks
4
DW - Cheadle -

Adapté à: k1100lt
This Varta will probably end up with five stars but it'sonly been in the bike for a week. Don't be in a rush when priming with the acid. Tayna's service was outstanding.
4
ND - Horsham -

Adapté à: BMW R65 650cc 1980W
Battery as described ,well packed and received in excellent condition, delivery was a bit slow taking five days from collection to delivery to an island.
4
TP - Isle of Barra -

Adapté à: BMW K75 750 1989
fast delivery just what i like
5
H Holt - Frodsham -

The service from Tayna was great, fast delivery and correctly package. The Varta battery not as good as I'd expect from this brand. The battery came without instruction about how to fill. I found a video in youtube so I could overcome the first problem. The second problem was a bit more frustrating, theoretically, the acid that is provided is just to correct volume... I got around 200ml extra so you have two question, I fill correctly the battery? what suppose to do with the extra? Regards,
4
Miguel - Ireland -

Adapté à: BMW R1100R
Excellent product and delivery. Along with a courtesy call to let me know it might be a day late.
5
Stephen Fisher - Bathgate -

Adapté à: Lawn mower
Excellent and fast service
5
Steve Saunders - Kings Lynn -