Revues de
YB60-N24L-A Varta Powersports Freshpack 53030 Batterie De Moto 530 030 (B68-12, BMW)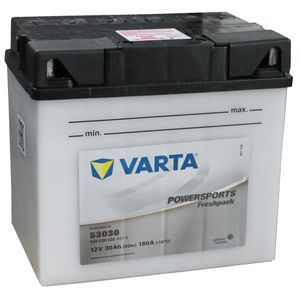 YB60-N24L-A Varta Powersports Freshpack 53030 Batterie De Moto 530 030 (B68-12, BMW)
Notre Prix: €66.71 comp. TVA

(4.8 / 5.0) Note Moyenne:
Total des Commentaires:71
Avis des Clients
Battery arrived on time, the correct way up with no spillage. Fitted to the bike with no problems.
5
MR - Bourne, United Kingdom -

Adapté à: motoguzzi california 1100 2002
Great to replace the original R90 battery, very reliable starting and a perfect fit. First time I have used Tayna, excellent Service, advice and delivery tracking
5
MRB - Wiltshire, United Kingdom -

Adapté à: BMW R90/6 900 1975
Good service for thins product at a goldmine price.
4
PG - Shropshire, United Kingdom -

Adapté à: Moto guzzi Le mans 860 1977
Great service and product at the best price around, can't recommend highly enough.
5
SP - Leek, United Kingdom -

Adapté à: Ducati Darmah 900 1977
ARRIVED PRECISELY WHEN ARANGED FOR WITHIN AN HOUR TIME SPAN -EXCELLENT
5
MMRB - March, United Kingdom -

Adapté à: BMW R80 RS 799 1977
This is a fine battery. In my opinion the best balance of cost vs functionality. There may be more powerful batteries out there, but there are more expensive or don't hold their charge, or die after a year or so. The varta is plenty powerful enough. holds its charge for a month or two when bike left in garage and works just fine. I would love it to last longer than 4 years.....but they never do.....never found a battery for my bike which does.....they do 3 good years and one dodgy one and then that is it. Would certainly buy another one.....Think this is my 4th, at least that I remember.
4
EB - Plymouth, United Kingdom -

Adapté à: Moto Guzzi 850 T3 California 844 S
GREAT OE BATTERY FOR MOTO GUZZI CAN SEE WHY RECOMMENDED HAD NO TROUBLE IN 3 THOUSAND MILES EXCELLENT SERVICE
5
aw - Kent, United Kingdom -

Excellent product. In this case directly replaced Westfield kit car battery, size and rating. Easily turns over a Ford Zetec engine.
5
SB - Kent, United Kingdom -

Adapté à: Westfield SEi FW 2 litre 62
HI Excellent service fast delivery good price will use again Richard.
4
RS - Market Rasen, United Kingdom -

Excellent product and service!
5
RR - Andover, United Kingdom -

Adapté à: BMW R80/7 798cc 1978
This is my second Varta battery on my 1978 BMW R80/7. The previous battery gave me good service for several years. It's a tight fit in the bike but by shaving a bit off the side casing overlap it dropped into place easily. As others have said it is difficult to see the acid level through the opaque casing so I made a little depth gauge or dip stick from a dowel with a bit of chalk on the end and got the levels spot on. Even though I had filled it to the top marks and gave it time to settle after shaking I still had a little acid left over. My bike runs fine now and starts on the button.
5
KM - Lancashire, United Kingdom -

Adapté à: BMW R80/7 800cc 1978
Price and product was fine, well wrapped, delivery was 3 days despite paying for the next day delivery
3
kW - Staines-upon-Thames, United Kingdom -

Adapté à: BMW R80 800 93
Fast efficient service. Battery arrived well packaged and with full and clear instructions. Couldn't fault Tayna and recommend them.
5
JR - Ipswich -

Difficult to accurately fill with acid because of opaque casing
4
jr - Bridport -

Adapté à: BMW R90S 900 1975
Battery came the day after I placed order pop it on charge after I filled it with acid, now in bick working fine. P.Doyle.
5
M - Weybridge -

Adapté à: Laverda RGS1000 998cc 1983
Arrived promptly, no problems filling or fitting. Dry charge as supplied would be fine for starting a bike in good running order. Recommissioning an old bike that had been unused for some time went much better after the battery had had a full charge.
5
MRPT - High Peak -

Adapté à: Moto Guzzi 850-T 850cc 1974
Perfect fit for the bike. Fast delivery, well packed.
5
GW - High Wycombe -

Adapté à: BMW K100 987 1984
Battery was for my sons motorcycle Laverda RGS1000 same battery as the BMW,last one we purchased from you four & a half years ago a good fast service just what we wanted.
5
M - Weybridge -

Adapté à: Laverda. RGS1000. 998cc 1981
All 'as per the tin' and so far a good performing battery The only thing stopping it being 5* is that I found the translucency bad for judging the acid filling level
4
MIW - Lincoln -

Adapté à: Moto Guzzi California 1164cc 2000
Great product, the experience unfortunately marred by really poor delivery service. Additionally, no paperwork whatsoever sent until requested.
5
MGK - Bury -

Adapté à: bmw r100rt 1000cc