Revues de
WCP15L Westco Platinum AGM Batterie De Moto 12V 14Ah YB14L-A2 (SVR15L)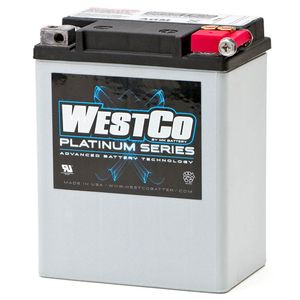 WCP15L Westco Platinum AGM Batterie De Moto 12V 14Ah YB14L-A2 (SVR15L)
Notre Prix: €114.21 comp. TVA

(4.8 / 5.0) Note Moyenne:
Total des Commentaires:47
Avis des Clients
Fitted it in January 2014 and never touched it since until Feb 2020 when it finally died. Won't accept a charge more than 9.3V but up until then it has performed perfectly. Flattened it once by accident a couple of years ago, used the car jump leads to put a bit of life back into it then a normal recovery charge for a few hours and it was back to normal. Would have bought another but for the price.
5
DM - Thornton-Cleveleys, United Kingdom -

Adapté à: Piaggio X9 500 460 04
First rate service , packaged very well
5
M - Arundel, United Kingdom -

Adapté à: Bsa A10 650 ,with electric start 1961
Battery seems fine so far , not loosing any charge or anything weird.... only time will tell. It was cheap & you can see why in the quality of casing ,terminal fixings... not quite Yuasa standard. Terminal bolts & red live cover were missing from the box & i had to chase up with Tayna & get some sent in the post, QC need to check before despatch a little more. Next day delivery was Excellent.
3
MF - Ulverston, United Kingdom -

Adapté à: Norton Commando 850 1978
Good quality and delivered promply.
5
IN - Wiltshire, United Kingdom -

Adapté à: Royal Enfield Bullet 500 500 2003
Good and powerful for its size, can't get better.
5
PL - N/A, United Kingdom -

Adapté à: BSA B33 500cc single 1957
tanya batterys are good value
5
CV - Matlock, United Kingdom -

Adapté à: bsa road rocket 650 1961
Great price, good item and excellent service. Delivery was superfast, would definitely use again.
5
LD - ESSEX, United Kingdom -

Adapté à: Lawnmower
Easy to fit and works well
5
PM - London -

Adapté à: BMW C1 200 2003
So far so good as with all batteries time will tell., Delivery from Tanya was very quick excellent service
5
LN - Caerphilly -

Adapté à: Suzuki 2 batteries purchased GSX1100 and GS750DB 1100 & 750 GS is 1977, GSX is 1981
Delivery good. Operation so far so good.
4
RC - Gilmorton -

Adapté à: Moto Guzzi Nevada Classic 750IE 750cc 2007
VERY HELPFULL SALES TEAM SOUND ADVICE GIVEN TO ME . PURCHASED RECOMENDED PRODUCT , WELL PLEASED AT END RESULT BIKE STARTS MUCH QUICKER THAN THE STANDARD BATTERY
5
SP - Solihull -

Adapté à: TRIUMPH THUNDERBIRD 900CC 2002
I spoke with Joe who was very patient and helpful. I was so impressed I didn't even bother to check prices elaw where and bought the battery. Time will tell how good it is but my bike starts with gusto now. Checked price after purchase. Even happier now!!! :-)
5
JR - Sittingbourne -

Adapté à: BMW C1 125 1999
Fitted to bike and never known my triumph to fire up on first turn before :-) Had to modify the terminals on +ve and -ve leads to fit but 2 minute job
5
SMS - Highland -

Adapté à: Triumph trident sprint 900 m
arrived next day. Only hiccup was that the positive terminal screw was missing. Took one off old battery so no problem.
4
SY - Croydon -

Adapté à: Triumph Thunderbird 900 y642 nfc
Arrived sooner than i expected well packed and is just what i ordered
5
db - East Riding of Yorkshire -

Adapté à: Triumph Thunderbird 900 2002
Worth every penny. It has changed a difficult-to-start Royal Enfield Sixty-5 electric start (ha! ha!) into an electric immediate starter. Thanks
5
IN - Wiltshire -

Adapté à: Royal Enfield Sixty-5
Very good quality battery. very pleased with it.
5
MS - Walton-on-Thames -

Adapté à: Triumph Thunderbird 900cc 1995
Made a big difference, my bike starts straight away now!
5
JH - Coalville -

Adapté à: Suzuki Gt750 750 1976
Absolutely stonkin' battery. I fitted it to my 1992 Trident 900 which demands a lot of cranking amps from cold and it fires up no problem. Best battery I've ever bought. Delivered quickly too.
5
PP - Selby -

Adapté à: Triumph Trident 900 885 1992
Fast delivery. Well packaged. Strong turning the engine over. Triumph 1200 Daytona.
5
GA - Berkhamsted -

Adapté à: Triumph 1200 Daytona 1180cc 1995