Revues de
WCP30 Westco Platinum Batterie De Moto 12V 26Ah - Replaces YIX30L-BS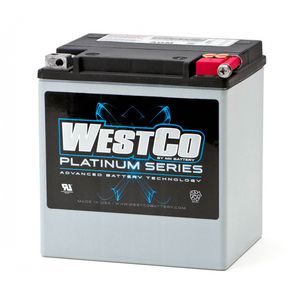 WCP30 Westco Platinum Batterie De Moto 12V 26Ah - Replaces YIX30L-BS
Notre Prix: €131.32 comp. TVA

(4.8 / 5.0) Note Moyenne:
Total des Commentaires:35
Avis des Clients
Livraison conforme aux attentes, le produit est exactement le même que l'ancie Qui était défectueux.
5
AL - Mouguerre, France -

Adapté à: Harley Electra Glide 1690 2007
batterie conforme a l achat super suivi de commande
5
lp - carnon plage, France -

Arrived super fast and packed very safely. Battery is perfect for a BMW R100R. The only one to have In my view.
5
PA - Coventry, United Kingdom -

Does the job...
5
AS - rossendale, United Kingdom -

Adapté à: Harley Davidson Road king 1584 07
The product works as expected and service was superb - highly recommended
5
AN - Uxbridge, United Kingdom -

Adapté à: BMW R100S 998 1977
Amazing beast of a battery. Great replacement for my Harley. Same factory battery as Harley's original.
5
RVE - Hove, United Kingdom -

Adapté à: Harley Davidson Road King 1580 2009
perfect on time good quality
5
TB - TN, Italy -

Adapté à: Harley Road king classic 1338 1998
Perfect fit as replacement for original '98 Road King Classic battery.
5
MB - Kettering, United Kingdom -

Adapté à: Harley Davidson Flhrci Road King Classic 80 ci R - 98
Very pleased so far, it came next day and was very well packaged. Fitted it to my Electra Glide and had an eight day trip to Germany. Starting was 100% and never missed. I am looking forward to hassle free starting and running. I will be recommending to all our club members. Thanks John
5
JT - Dunstable -

Adapté à: Harley Davidson Electra glide 1800 59
Good battery, if a bit expensive. Plenty of cranking power. Last one I had worked for 7 years. Great service from Tayna. Ordered at 4pm, dispatched at 4:10pm and in my hands the following morning.
4
IG - Kidderminster -

Adapté à: BMW R100 1000cc 1983
Took several days to arrive :-( the other batteries I have ordered from Tanya have arrived next day. It fits a Moto Guzzi V35, but is a squeeze.
4
RM - Berkshire -

Adapté à: Moto Guzzi V35 350 C
Good quality battery. Delivery by DPD was excellent.
5
DM - Forfar -

Adapté à: Moto Guzzi V50 Mk2 500 W
Good service. Battery is 3mm wider than quoted dimensions. Neat terminal arrangements
5
TW - Herts -

Adapté à: Morgan M3W 2 litre 2012
NEW BATTERY WORKING WELL 22 11 16
5
RB - Ashford -

Adapté à: bmw r80rt 800cc 1984
It works, although clearly not designed for the 1977 RS as the bolts had to have extensions fitted to them. It is too tall!!!
4
CW - Middlewich -

Adapté à: BMW R100RS 1000 1977
Good battery...fits well, good contacts and posts, cranks the engine well for starting -important for a big twin, 25-year-old classic! All good!
5
MF - Chichester -

Adapté à: BWM R100GS Paris-Dakar 1000cc 1992
Great battery / packs a real punch to my v twin !!
5
RP - Cumbria -

Best battery I have ever used on an R100. Never lacking in chuff even when very cold. Only make of battery I feel confident with for this bike. Lasts well too.
5
PA - Coventry -

Adapté à: BMW R100R 1000 1993
Excellent service. Battery fitted straight into my bike.
5
RN - Wrexham -

Adapté à: Harley Davidson FLHR 1450 1999
Superb powerful reliable. The only battery I will fit to a 1000cc airhead.
5
PA - Coventry -

Adapté à: Bmw R100R 1000 1993