Revues de
12V12-B Westco Batterie De Moto 12V 10Ah - Remplace YTX12-BS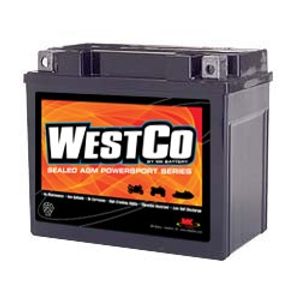 12V12-B Westco Batterie De Moto 12V 10Ah - Remplace YTX12-BS
Notre Prix: €72.11 comp. TVA

(4.8 / 5.0) Note Moyenne:
Total des Commentaires:51
Avis des Clients
Very good battery fitted to t100 Bonneville
5
CC - Northampton, United Kingdom -

Adapté à: Triumph Bonneville 865 2005
Very pleased with battery and your great service
5
JN - Windsor -

Adapté à: Triumph Bonneville T100
This battery has delivered good starting performance in all weathers. The bike had an enforced layup this spring because I had a hand injury and I forgot to connect my trickle charger so I was impressed to find several months later that it still held a good charge.
5
Gjbs - Chelmsford -

Adapté à: Honda Blackbird 1100 1999
Useful replacement
4
jm - co cork -

Adapté à: Honda CB400A 400 1980
Good lower cost option to the original Yuasa. The original lasted less than a year and is only covered under warranty for six months!
5
Andrew Tucker - Halstead -

Adapté à: Triumph Bonneville T100 EFI 865 2012
Quick delivery, well packaged, thank you
4
Brian Miles - EDENBRIDGE -

Adapté à: Royal Enfield Bullet X 500cc 2006
Purchased as upgrade for Piaggio LX 125 2006 Model. The later fuel injected scoots use a 10amp but the older ones use 9 amp. Decided whats good for the latest models is good for the old. You will have to remove the little battery box on the Little Vespa but this larger battery will fit snugly. The Terminals are in the correct position for the scoot also so no issue with cables not reaching. Despite the old 9amp battery holding full charge it would not fire up. However fitting this upgrade battery it started first time. No More filling and again after fitting a charge indicator with charge connector i never have to remove the battery. Certainly not cheap but a quality item.
5
James_Death - Doncaster -

Adapté à: Piaggio Vespa LX 125 2006
Worked straight from the box, efficient delivery, no problems encountered
4
Mr P M Chater - Midhurst -

Adapté à: Kawasaki 6ERF 650 07
Goods as described on-line. Packed well and delivered as ordered. Very straight forward web site, easily located the correct battery for my motorbike. Payment straightforward and safe (using the bank system of PIN code access).
5
Richard Newell - Leicestershire -

Adapté à: Suzuki Marauder 800cc 1998/99
Did not fit my 2000 Fzs600 and had to return it at my cost. The customer services chap I spoke to was unfortunately unhelpful, refusing to take on board any of my comments or update the battery fitment guide. Took 2 weeks and prompting to get a refund. An unpleasant experience with Tayna which didn't necessarily have to be. Make sure the battery fits.
2
Gareth - Sussex -

Adapté à: Yamaha FZS600 600 2000
Good battery - worked straight out of he box - no funny business with liquids etc.
5
Alex - London -

Adapté à: Suzuki Intruder M800 800cc 2007
Not yet used, fast delivery. It is to power my Fishfinder, rather than lug a car battery around. Also half the price of the unit the makers supply.
5
P.D. - Macclesfield -

Adapté à: See review
good battery, fair price and delivered very quickly thanks
5
The Rocker - Gateshead -

Adapté à: Triumph Speedmaster 865 2006
quick delivery and very easy to fit.
5
andrea - Chessington -

Adapté à: zx7r
Trickle charged for a few hours,then fitted in sub-zero temperatures. The old girl fired immediately,despite not having run for weeks(as the original fitment battery was knackered). A great improvement in cranking with the AGM battery!
5
Dangermouse - Crawley -

Adapté à: Suzuki GSF1200K4 1157cc 2004
Only had the battery fitted for a couple of weeks so dont have a long term opinion. The battery arrived the day after ordering and took only minutes to fit, no assembly, no filling, no charging, straight out of the box, job done. Engine cranks with plenty of power and voltage remains high at rest.
5
Mr J Abbott - Waterlooville -

Adapté à: Kawasaki Versys 650 2007
The battery was promptly shipped and arrived quickly. Excellent service, once again!
5
JN - Luxembourg -

Adapté à: Mercedes-Benz E320 CDI (W211) 3.2L 2004
Good product & quick delivery.
5
USER9844 -

Excellent Battery/ Excellent Service and Delivery
5
USER9743 -

5
5
USER9459 -