Revues de
12V9-B Westco Batterie De Moto 12V 8Ah - Remplace YTX9-BS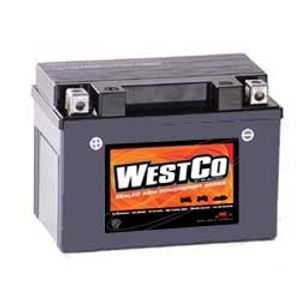 12V9-B Westco Batterie De Moto 12V 8Ah - Remplace YTX9-BS
Notre Prix: €55.05 comp. TVA

(5.0 / 5.0) Note Moyenne:
Total des Commentaires:88
Avis des Clients
Had the same battery for the last 5years used every day with no problems and being a dry cell is ideal for an old bike!
5
MMN - Wellingborough, United Kingdom -

Adapté à: triumph Trophy 650 1969
Excellent product. 5 years and counting of year round performance. Highly recommended.
5
PT - Huntingdon -

Adapté à: Yamaha XT600e 600 02
Excellent service, good product. Arrived the following day after placing order
5
AB - Radstock -

Adapté à: Honda CBR 600 L
The service I received was second to none. The lady I spoke to who delt with my order was first class and very helpful. My battery arrived the following day at 8.20 am I only ordered it at about 2.30 pm the day before so what can I say I WILL spread the word. Your service is honestly second to none and not forgetting a very good price too.
5
CD - Burntwood -

Adapté à: Honda Fireblade 918 cc T
very good service and product
5
dw - London -

Adapté à: yamaha diversion 600 1999
Quick delivery, great service, fair price
5
AB - Northamptonshire -

An excellent battery (so far - only just got it!). But I'm confident it will see me through the winter. The bike starts first time. Super fast delivery and great friendly customer service from Tayna Batteries. I wouldn't go anywhere else.
5
SF - North Yorkshire -

Adapté à: Honda NT 650 Deauville 650 1999 (T reg)
To be honest I was more impressed with the delivery from Tayna. Ordered at lunch time the day before and it was at my door before lunch the following day...fantastic.... As exciting as batteries are, this one fitted were it was supposed to and started the bike as expected. Use Westco other bikes, so didn't expect any issues.
5
PF - Chalgrove -

Adapté à: Yamaha FZR400RRSP 399 1992
Fast delivery - quality product.
5
RP - Plymouth -

Strong battery and quick delivery
5
Richard Ward - Northampton -

Adapté à: Suzuki Bandit 600 2002
Great delivery, battery good to go straight away. Will use again
5
Adam Temple - Mirfield -

Adapté à: Honda Fireblade 900 98
Excellent service, battery was well packaged and delivered as promised. I checked the battery was fully charged and appears to be a good product. I'm very satisfied with my purchase.
5
L. Tippins - Waterlooville -

Adapté à: Aquila 250
This is an excellent battery. I just had to remove it from the box and put in my bike. I don't use my bike a lot (only cover 2000 miles a year) but this battery has plenty of power for my occasional start-ups.
5
Michael Thompson - Fareham -

Adapté à: Kawasaki ZX6R 600 2000 (W reg)
Worth getting the extra torque
5
David Scott - Wallington -

Adapté à: Honda Deauville 650 650 1999
Fast Service, good value & good communication.
5
Petebike - Carmarthen -

Adapté à: Honda Deauville NT650 650 1999
Didn't have ordered item in stock - rang me within 30 mins of placing order to advise and offer alternative. Arrived in the post 24 hours later. Great packaging .. great battery .. bike all good now! Thanks
5
Derek Terrill - Peterborough -

Adapté à: Suzuli Burgman AN400K7 400cc 2007
Great service. Can't comment on battery as we've only just fitted it.
5
Peter Lemer - Bishop's Stortford -

Adapté à: Suzuki 600 Bandit
arrived next day fully charged and ready filled with acid.Great!
5
derek baker - Chatham -

Adapté à: suzuki gsf 650 s 650 2005
Straight swap on my Honda DeauVille NT650V. Needed a small boost to start first time and after that no issues. Received fully completed with no need to mess about with acid packs etc.
5
Greg - Redhill -

Adapté à: Honda DeauVille NT V 650 2005
VERY HELPFUL INFORMATION ON THE WEB SITE. BATTERY WAS SENT THE FOLLOWING DAY. VERY SATISFIED WITH PRODUCT AND RATE OF DELIVERY. NO NEGATIVE THOUGHTS. 100% SATISFIED ON PRICE AND RESPONSE
5
NICHOLAS JORDAN - Hereford -

Adapté à: SUZUKI GSF BANDIT [ naked } 600 2002