Revues de
Yuasa YB18L-A Batterie De Moto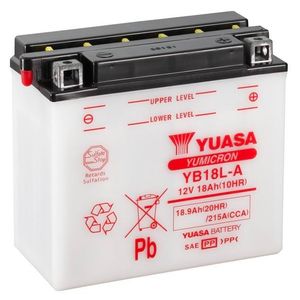 Yuasa YB18L-A Batterie De Moto
Notre Prix: €82.94 comp. TVA

(4.8 / 5.0) Note Moyenne:
Total des Commentaires:4
Avis des Clients
Just the perfect battery for my classic bike
5
DD - leek, United Kingdom -

Adapté à: moto guzzi v50 500cc 1979
Battery competitively priced arrived promptly well packaged for immediate installation. As the motorcycle it is used for is sometimes not used regularly it is connected to an optima trickle charger. So far bike starts first time every time YUASA is a good brand and so far very pleased
5
PD - LONDON, United Kingdom -

Adapté à: Yamaha Xv1100 VIRAGO 1100cc 1993
Excellent product, competitively priced received very quickly Many thanks
5
GR - Hook -

Adapté à: Kawasaki Z1100R1 1089 1984
UKmail dit not want to leave the parcel in the porch, so I had to go to the depot. Battery arrived properly packed. We gave the egg boxes to a local egg seller. When filling, I noticed there was not enough acid. The parcel came with one liter, but it needed 1.2 liter. Luckely I could arrange acid to be made up in the factory laboratory. I ordered a battery for high performance vehicles, because the dimensions were good and use it in a sit-on lawn mower. I wonder if there is a difference. Battery is working well, so no complaints about this.
4
rob - woodbridge -

Adapté à: lawn flite sit on 120/40 200 cc? 199?