Revues de
Yuasa YIX30L Haute Performance MF Batterie De Moto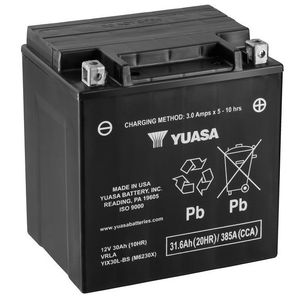 Yuasa YIX30L Haute Performance MF Batterie De Moto
Notre Prix: €166.35 comp. TVA

(3.7 / 5.0) Note Moyenne:
Total des Commentaires:6
Avis des Clients
produit parfait
5
EJ - DANCOURT POPINCOURT, France -

Adapté à: harley electra glide ultra classic 1450 2007
RAS, personnel à l'écoute.
5
AP - SUSMIOU, France -

Adapté à: harley Electra 1584 2010
GREAT SERVICE, AS DESCRIBED, ARRIVED EARLY
5
DC - Bexhill-on-Sea, United Kingdom -

Adapté à: HARLEY DAVIDSON ELECTRO GLIDE CLASSIC 1584 2016
Bought this to replace a smaller battery that was fitted as standard but not up to the job. Performed well for around a year and then just didn't hold its charge. Unfortunate as earlier Yuasa batteries have been faultless but this is my third recent one and they have all failed within three years and we know how to look after our things. Not what they used to be. A pity as they were one of the best.
1
MMH - Craven Arms, United Kingdom -

Adapté à: Can Am Tractor 800 2018
7 month old Westco battery failed on my Road King. Recharged it and tested bike: all okay. Phoned Tayna and was patronised somewhat, despite assuring rep of many years of professional experience. Advised that the testing process could entail a wait of nearly two weeks. In the event, a more customer friendly representatives, Simon Taylor, rang in just a couple of days to advise that they had tested the battery and found it faulty. I have upgraded to a Yuasa and anticipate trouble free biking for the next five years... Battery arrived first thing the following morning.
4
Simon Day - Littlehampton -

Adapté à: Harley-Davidson Road King Classic 1450cc 2002
site said unit in stock but had to wait over a week for delivery......had choice to go to other site had I known delivery would not have been straight away. Adrian
2
Adrian Mansell - York -

Adapté à: Harley Glide Ultra 1450 2001